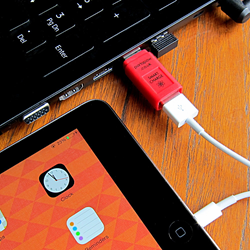 PortaPow charges 2 to 3 times faster. Works on virtually any mobile, tablet, or rechargeable gadget!
Sydney, Australia (PRWEB UK) 9 April 2015
4Cabling is excited to introduce PortaPow fast-charging cables and adaptors to Australia, the fastest way to stay connected on-the-go. These cables and adaptors use quality copper and chip technology to charge devices 2 to 3 times faster than normal cables alone, even when plugged into a laptop or car charger.
Australian's spend more time online than any other nation, consuming over 10 hours of media every day. Much of that time is on mobile devices, tablets, and e-readers, which means that keeping devices charged and ready to use is a constant challenge. UK based PortaPow has been specialising in charging portable electronics since 2005, and their products are finally available in Australia exclusively at 4Cabling.com.au.
"At 4Cabling, we are always on the lookout for products and solutions that add genuine value to our customers, and the PortaPow range is a perfect addition to our offering," says Chitrang Trivedi, Director of Sales at 4Cabling. "Forming an exclusive, strategic partnership is very exciting for both companies."
The Fast Charge Micro USB Cable replaces normal charging cables, using high quality copper to charge devices at 1.5A to 2.0A, much faster than traditional micro-USBs which operate at only 0.5A. Available in 30cm, 1m, 2m, and 3m lengths, these cords also prevent devices from going into 'transfer mode' when plugged in, stopping unwanted uploading, viruses, and hackers.
The Fast Charge + Data Block USB Adaptor works with a devices USB cable to speed up charging and block data transfers in the same way. It essentially 'dumbs down' the cord to prevent a device from going into transfer mode, providing devices with the maximum charge in the shortest amount of time.
"We've had a huge response to these products," says Jane Adkins, Purchasing Manager at 4Cabling. "We saw the success they were having in the UK and wanted to bring them to Australia right away."
These cables and adaptors are truly universal, and will work on popular Apple and Android smartphones, as well as power-hungry devices like Blackberry, Nexus, and Windows. They also work on portable speakers, Bluetooth devices, e-readers, Sat Navs, and other rechargeable gadgets.
4Cabling is Australia's top source for cabling, server racks, fibre, and cable management online, providing quality products for a connected world.