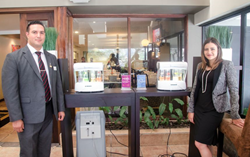 Guatemala City (PRWEB) March 23, 2015
As the Radisson Hotel and Suites in Guatemala City is moving along with its innovative remodeling project, the hotel is adding the first of its kind oxygen bar, Breathe.
The exciting and ground-breaking new service will offer guests a revitalizing experience of flavored oxygenation therapies such as Tranquility, Calming, Purity, Fresh, among others, to rejuvenate the body. It is found that the oxygenation of the body eliminates toxins, reduces stress and increases concentration.
According Grupo Azur's marketing director, Melissa Alonzo, "We live a lifestyle that produces a lot of tension. At Radisson Hotel & Suites Guatemala, we want to offer a service that contributes to the care of body and mind, which will then greatly affect the general welfare of the individual. Our guests will truly enjoy experiencing the new oxygen bar."
The hotel is currently undergoing a multi-million dollar renovation with a new lobby, restaurant and bar areas. It is located in the heart of Guatemala City's Zona Viva ("the lively zone"), a bustling hub of nightlife, and is 10 minutes away from La Aurora Airport.
About Radisson®
Radisson® has become one of the best-recognized hotel brands, offering an upscale hotel experience for business and leisure guests. The World of Radisson features solutions that are empathetic to the challenges of modern travel, including the 100% Guest Satisfaction Guarantee. Radisson has 155 154 hotels located in major urban and suburban settings, leisure destinations, airports, and business districts throughout the Americas, Asia Pacific and the Caribbean. Every staff member has a passion for Yes I Can! SM hospitality, the signature service philosophy of Radisson, to that ensures the total wellbeing and satisfaction of each guest.
Radisson is a part of Carlson Rezidor Hotel Group, which also includes Quorvus Collection, Radisson Blu®, Radisson Red, Park Plaza®, Park Inn® by Radisson and Country Inns & Suites By CarlsonSM. For reservations and more information visit, http://www.radisson.com,
Contact:
Radisson Hotel & Suites Guatemala City Contact:
Melissa Alonzo
(+502) 22467480
malonzo(AT)grupoazur.com
Skype: mely.alonzo