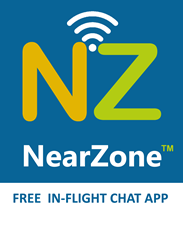 "Originally we expected it to be used mostly by people who knew each other, but we've been surprised how many users find it handy for making new connections."
Rock Hill, South Carolina (PRWEB) March 24, 2015
According to a recent article by Reuters, the U.S. commercial airlines are set to face their busiest Spring in seven years. Industry trade group Airlines For America made the prediction in mid March, estimating 134 million passengers during the next two months.
Several factors are believed to be contributing to the anticipated uptick, the trade group announced in a press release, from steadier national employment numbers to more affordable travel rates.
"There's a greater sense of community when you can connect to other people," he said, "whether digitally or in-person. It can be someone you're traveling with, or some one you just met - the point is it enhances the journey."
Grewall says this improved flexibility for air travelers can make for smoother flights in general, keeping passengers happily entertained with apps, games, news or messaging, and therefor less focused on what he calls "the cattle car experience."
Dr. Grewall's own app NearZone was designed to connect users through ping messaging and texts by utilizing a backdoor approach to connectivity.
"We rely on the base transmitters and receivers in smart phones," he explains. "We bypass the traditional cell carriers and allow direct phone-to-phone messaging with other users in an adjustable radius."
"Originally we expected it to be used mostly by people who knew each other, but we've been surprised how many users find it handy for making new connections."
Though airline internet coverage continues to grow stronger in the skies, there are still restrictions on how different devices can be used, and at which times. NearZone, however, allows passengers to continue messaging even when cell service is unavailable, whether at the gate or in-flight.
Anticipating an overall 2 percent increase in ticket sales over 2014, the airlines are boosting their number of available seats this Spring by approximately 3 percent, according to Airlines For America.
Grewall says large groups traveling together can utilize the technology from apps to keep up with each other in airports, at professional conferences, or at destination attractions. Services like NearZone and Google Voice are helping users find alternate routes around the standard cell providers. In the case of NearZone, the technology utilized is practically antiquated, something Grewall finds refreshing.
"Sometimes it's the most basic techniques that prove to be truly innovative."
NearZon App can be downloaded in itune store.
http://www.businessinsider.com/r-us-airlines-group-expects-busiest-spring-season-in-7-years--2015-3