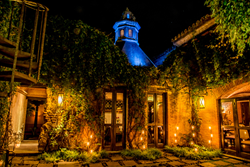 Antigua, Guatemala (PRWEB) March 23, 2015
El Convento Boutique Hotel in Antigua, Guatemala is offering a fantastic "Star Package of the Month" spring break bundle for travelers seeking a cultural adventure.
For those who want to spend some time exploring the Guatemalan culture and taking in some fun in the sun, El Convento Boutique Hotel's "Star Package of the Month" includes accommodations in their junior suite; daily breakfast; homemade ice cream sampler (their summer house specialty) and a choice of the following Tour Activities: Shopping in Antigua; Guatemalan Art; Local Gastronomy and Herbolary tour; Earthquakes/Hurricanes/Eruptions tour or the Walk Through Museum tour.
For additional information about the exciting adventure package, travelers should log on to http://www.elconventoantigua.com/especiales-es.html.
About El Convento Boutique Hotel:
Nestled around the three volcanoes in Antigua (Agua, Acatenango and Fuego), El Convento Boutique Hotel offers travelers an unforgettable experience with gracious hospitality as well as their close proximity to the town square, restaurants and nightlife. The resort's suites are in honor of notable colonial characters from Guatemala's rich history and picturesque towns and most suites flow from a central courtyard graced by a hundred-year-old Tempixque tree. With the resort's balance of dedicated hospitality, rich details, taste and cultural surroundings, El Convento Boutique Hotel boasts a new standard of quality and service of the region, evident in their resort and website design.
El Convento Hotel contact:
Melissa Alonzo
(+502) 22467480
malonzo(AT)grupoazur.com
Skype: mely.alonzo