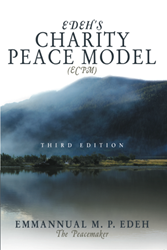 Charity and love are the languages understood even by the deaf and dumb
AKPUGO, Nigeria (PRWEB) March 24, 2015
Mahatma Gandhi said, "The day the power of love overrules the love of power, the world will know peace." While love is powerful, how can this image of peace become a reality?
"Edeh's Charity Peace Model" lays out how all countries can achieve peace. In addition to offering philosophy about peace, the teachings by Emmanuel M. P. Edeh encourage action to bring peace to the modern world. This ideology, which comes from his native African philosophy, allows Edeh to share his knowledge of philosophy, theology and peace. By embracing the spirit of brotherhood, "Edeh's Charity Peace Model" encourages people to look after the less privileged in order to obtain world peace.
"Charity and love are the languages understood even by the deaf and dumb and as such should be used as sure ways for the realization of world peace," Edeh said.
Edeh has worked toward peace in his home country, Nigeria, as well as Chicago, where he earned his Masters degree and PhD in Philosophy. As a servant leader and international man of peace, Edeh presents the partnership of peace thoughts and actions in order to make philosophy more productive than speculative. Edeh presents his belief how people ontologically desire peace.
"People deserve care and peace and can attain such by embracing the good in the world around them," Edeh said.
This how-to guide illustrates the path to peace with actual steps to achieve this goal. In a time of violence, this book can clear the world of this destruction.
"Edeh's Charity Peace Model (ECPM)"
By: Emmanuel M. P. Edeh
ISBN: 978-1-4918-1989-0
Available in softcover, hardcover, e-book
Available on Amazon, Barnes & Noble and AuthorHouse
About the author
Emmanuel M. P. Edeh is a Catholic priest and philosopher, as well as founder of numerous organizations including Madonna University Nigeria, Catholic Prayer Ministry – Worldwide and Centre for Peace, Justice and Reconciliation Nigeria. Edeh earned both a Masters degree and PhD in Philosophy from De Paul University. As an active member of his community, Edeh hopes to start peace throughout the world.
# # #
**FOR IMMEDIATE RELEASE**
For review copies or interview requests, contact:
Jaymie Shook
317.602.7137
jshook(AT)bohlsengroup.com