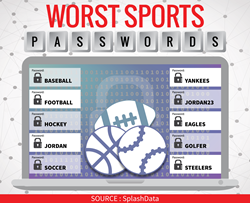 Being a super fan of any team or athlete doesn't mean you should put your identity at risk with easily guessable passwords
Los Gatos, CA (PRWEB) March 23, 2015
With the Super Bowl behind us, Major League Soccer season kicking off, Spring Training in full swing for Major League Baseball, and March Madness swooshing in fast and furious with the college hoops tournament, many sports fans are using their favorite team or athlete names as their passwords. While some of these teams and athletes may be winners on the court or field, they are sure losers when it comes to being a secure password.
Research by SplashData, the password management experts, has produced a list of the Worst Sports Passwords – the sports-themed words that hackers are most likely to try when attempting to break into online accounts.
"Being a super fan of any team or athlete doesn't mean you should put your identity at risk with easily guessable passwords," said Morgan Slain, CEO of SplashData. "It's ok to use your favorite team names as part of your passwords, but to make them stronger you should add numbers, symbols or a combination of names to make the password much harder to crack."
This year's Worst Sports Passwords are:
1 baseball
2 football
3 hockey
4 jordan
5 soccer
6 yankees
7 jordan23
8 eagles
9 golfer
10 steelers
11 rangers
12 lakers
13 arsenal
14 cowboys
15 tigers
16 tennis
17 nascar
18 raiders
19 angels
20 redsox
21 packers
22 giants
23 redskins
24 gators
25 dolphins
The Worst Sports Password list is a subset of the larger annual list of the 25 Worst Passwords which would expose anybody to being hacked or having their identities stolen. In its fourth annual report, compiled from more than 3.3 million leaked passwords during the year, "123456"and "password" continue to hold the top two spots that they have held each year since the first list in 2011.
SplashData, provider of the SplashID line of password management applications, releases its annual list in an effort to encourage the adoption of stronger passwords. Slain says, "As always, we hope that with more publicity about how risky it is to use weak passwords, more people will start taking simple steps to protect themselves by using stronger passwords and using different passwords for different websites."
SplashData offers three simple tips to be safer from hackers online:
1. Use passwords of eight characters or more with mixed types of characters.
2. Avoid using the same username/password combination for multiple websites.
3. Use a password manager such as SplashID to organize and protect passwords, generate random passwords, and automatically log into websites.
# # #
About SplashData:
SplashData has been a leading provider of password management applications for over 10 years. SplashID (http://www.splashid.com) has grown to be most trusted multi-platform password solution for both the consumer and enterprise markets with over 1 million users worldwide. SplashID's popularity continues to rise as the number of user names, passwords, and account numbers most people have to remember is rapidly multiplying. At the same time, the risk of this kind of sensitive information falling into the wrong hands has never been greater. SplashID helps solve this dilemma by creating an encrypted digital safe available on smartphones, computers, USB keys, or online, offering the peace of mind of being able to access critical information whenever needed while maintaining the security of 256-bit encryption. SplashData was founded in 2000 and is based in Los Gatos, CA.