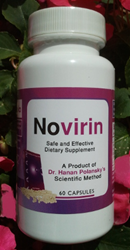 The Novirin formula was shown to safely and effectively reduce herpes symptoms in two separate post-marketing clinical studies that followed FDA guidelines. (3)
Rochester, NY (PRWEB) March 23, 2015
"Infected with the herpes simplex virus (HSV-1 or HSV-2)? The Center for the Biology of Chronic Disease (CBCD), which tested the formula of Novirin in two post-marketing clinical studies, recommends taking this natural antiviral supplement." – Greg Bennett, CBCD
Many people wonder how to recognize symptoms of genital herpes. The first sign is inflammation. All genital herpes symptoms are "caused by herpes simplex virus type 1 or HSV- type 2. It is important to know that usually the first sign of herpes is a severe inflammation of skin that shows in form of blisters or sores and in some extreme cases can lead to ruptures." (1) Genital herpes is caused by the herpes virus (HSV-1 or HSV-2), which after infection makes its home in the body's nerves and becomes latent. According to Medline Plus, "Once you have HSV-2, the virus hides within nerve cells and remains in the body. It can remain latent for a long time." Medline goes on to say, "The virus can reactivate at any time. This may be triggered by: Fatigue, Genital irritation, Menstruation, Physical or emotional stress, Injury etc." (See Medline Plus, last updated July, 2012) (2) Other early signs of a genital herpes infection include itchiness, nausea, painful urination, muscle pain and a burning sensation around the blister area. The blisters may be filled with an unclear liquid. They can appear inside or around the penis, groin, anus, or inside the thighs of male and inside labia, vagina, groin, buttocks or around anus of female. (1)
The CBCD recommends that individuals infected with the herpes virus take Novirin. This natural herpes remedy was shown to safely and effectively reduce herpes symptoms, such as those mentioned above, in two separate post-marketing clinical studies that followed FDA guidelines.
Click to learn more about Novirin and herpes symptoms.
One mission of the CBCD is to help combat chronic diseases that are caused by latent viruses, such as the latent HSV. Therefore the Center strives to raise awareness about this, and other latent viruses and their effects. This is important because many people do not understand latency.
What is latency?
After an initial period of activity, herpes establishes what scientists call a latent infection. When a virus is latent, it behaves like it is sleeping. It is latent.
How does one defeat the latent herpes virus?
"The key to maintaining your health is to help your immune system control the numbers of latent viruses." - Dr. Hanan Polansky
The best defense against a latent herpes infection is a healthy immune system. That's why the CBCD recommends Novirin.
The formula of Novirin was tested by Hanan Polansky and Edan Itzkovitz from the CBCD in two clinical studies that followed FDA guidelines. The studies showed that the Novirin formula is effective against the herpes family of viruses, including HSV-1 and HSV-2. The clinical studies were published in the peer reviewed, medical journal Pharmacology & Pharmacy. The first study was published in a special edition on Advances in Antiviral Drugs. Study authors wrote that, "individuals infected with the HSV … reported a safe decrease in their symptoms following treatment with (the formula of Novirin)." (3) The study authors also wrote that, "We observed a statistically significant decrease in the severity, duration, and frequency of symptoms." (3)
Novirin can be ordered online on the product website, here: http://www.novirin.com.
Novirin is a natural antiviral dietary supplement. Its formula contains five natural ingredients: Selenium, Camellia Sinesis Extract, Quercetin, Cinnamomum Extract, and Licorice Extract. The first ingredient is a trace element, and the other four are plant extracts. Each ingredient and its dose was chosen through a scientific approach. Scientists at polyDNA, the company that invented and patented the formula, scanned thousands of scientific and medical papers published in various medical and scientific journals, and identified the safest and most effective natural ingredients against latent viruses.
To date, Novirin is the only natural antiviral products on the market with published clinical studies that support its claims.
Women, in particular, should pay attention to symptoms of painful urination and any abnormal, vaginal discharge. "For females particularly, urination may become excessively painful and usually abnormal vaginal discharge also occurs. Blisters normally remain present for two to three weeks, after which they may subsequently burst open and they dry up on their own." (1)
What treatments are currently available for herpes infections?
"Two types of antiviral treatments against HSV are available: topical and oral. The treatments include penciclovir, acyclovir, famciclovir, and valaciclovir. However, their effectiveness is limited. For instance, a meta-analysis of five placebo-controlled and two dose comparison studies evaluated the effect of aciclovir, famciclovir or valaciclovir on symptoms. The meta-analysis showed that oral antiviral therapy decreases the duration and the associated pain of an outbreak by merely one day." (3). There is also the natural supplement Novirin, which has a formula that was designed to help the immune system target the herpes virus when it is in a latent form.
"Novirin has a clinically backed, antiviral formula shown to help reduce HSV symptoms. The CBCD therefore recommends that individuals who suspect that they have genital herpes talk to their doctor about this effective, natural antiviral product." – Greg Bennett, CBCD
Interested individuals can view the studies published on the antiviral formula of Novirin here:
http://cbcd.net/Gene-Eden-VIR-Clinical-Study.php
and
http://cbcd.net/Gene-Eden-VIR-Decreases-Fatigue-Clinical-Study.php.
All orders of these products are completely confidential, and no information is shared or sold to any third party. Privacy is assured.
References:
(1) Ul Islam, T "Herpes Signs and Symptoms: Do You Have Herpes?" - ScienceTimes.com. Published March 9, 2015.
http://www.sciencetimes.com/articles/3893/20150309/herpes-signs-and-symptoms-do-you-have-herpes.htm
(2) Medline Plus - Genital herpes. Update Date: 7/8/2012
http://wwwqa.nlm.nih.gov/medlineplus/276/ency/article/000857.htm
(3) Polansky, H. Itzkovitz, E. Gene-Eden-VIR Is Antiviral: Results of a Post Marketing Clinical Study. Published in September 2013.
http://www.scirp.org/journal/PaperInformation.aspx?PaperID=36101