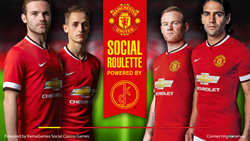 (PRWEB) March 24, 2015
It is the second in a series of specially designed Social Casino games for United fans worldwide. After an exciting and successful launch of Social Poker in February, the Company announced today the release of its Manchester United Social Roulette title, featuring a life-like casino experience, with cutting edge graphics and in-game features, which will appeal to Roulette and gaming fans of all experience levels.
Players can compete for various prizes, merchandise and tickets to MU events and can also invite their friends for a chat at the table.
Even more, players can choose the type of game they want to play, from classic European, Elegant French, or Risky and "like-in-the-movies" American Roulette!
It's a Free-to-Play game, and is available on iOS, Android, Facebook, Windows Mobile and Amazon Kindle devices. Download now at http://www.manutdsocialcasino.com
Danny Hammett, CEO of KamaGames comments:
"KamaGames is delighted to introduce the Manchester United Social Roulette product to what will become a suite of Social Casino Games. We have developed this game with the Manchester United Fan in mind, as well all gaming and casino enthusiasts, while also keeping to our highest standards of Game Production. We are confident that this game will be received well, and look forward to continuing our development in our suite of Manchester United Social Casino Games."
About Manchester United
Manchester United is one of the most popular and successful sports teams in the world, playing one of the most popular spectator sports on Earth. Through our 137-year heritage we have won 62 trophies, enabling us to develop the world's leading sports brand and a global community of 659 million followers. Our large, passionate community provides Manchester United with a worldwide platform to generate significant revenue from multiple sources, including sponsorship, merchandising, product licensing, new media & mobile, broadcasting and match day.
About KamaGames
KamaGames® is a Global Developer and Publisher of Social Games for Mobile Platforms, Online, Facebook, Steam, Xbox Live & Playstation Network. The company possesses wide experience in successful game production. The flagship game of the company - Pokerist® Texas Poker - has been featured in top positions in Grossing Charts on the AppStore and Google Play for the past three years and currently KamaGames has achieved over 70+ Mil downloads.