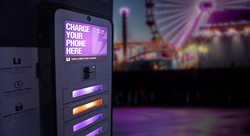 Brightbox charging kiosks are an ideal addition to arcades and family entertainment centers as well as to the product lines of amusement machine operators and vendors−there's no cash to collect or inventory to stock.
New York, NY (PRWEB) March 25, 2015
Brightbox, Inc. (http://www.brightboxcharge.com), the leading platform provider of secure mobile device charging lockers, is pleased to announce that it is the official charging sponsor of the 2015 Amusement Expo at the Las Vegas Convention Center from March 24th to the 26th.
Brightbox, a New York based B2B kiosk technology company, is the global leader in developing and deploying secure charging locker stations for on-the-go people with mobile devices, including cell phones, phablets, backup chargers and batteries. The Brightbox® Mark3 mobile charging platform is the most innovative, secure mobile device charging solution available in today's marketplace and has been selected as the "Best Digital Signage Kiosk Application" by rAVe [Publications], the leading expert magazine in audio visual reviews, at Digital Signage Expo 2015.
The Amusement Expo is the annual trade event for the coin-op, amusement and out of home music and family entertainment industry, bringing amusement professionals, vendors, buyers and partners together to network and share the latest products and news. The conference features a day of "Knowledge Sessions" followed by two days of exhibits.
Amusement Expo attendees can experience Brightbox and enjoy unlimited charging sessions via Brightbox lockers available at the event's registration and food court locations as well as at the Brightbox Booth, #641, throughout the conference and exhibition. Top CEO's, marketers, vendors and buyers from the coin-op and arcade industry will be able to discover the marketing power and potential of the Brightbox® Mark3 Charging station and its brand messaging platform while experiencing the delight of staying fully charged and engaged throughout the event. They can attend knowledge sessions, network, enjoy the games, take meetings and work, resting assured that their phones are being safely and optimally charged in a station that delivers both data privacy and physical security.
Brightbox provides mobile freedom, enabling consumers and brands of today and tomorrow, to live life charged and connected. It facilitates trust in public place amenity charging solutions, and provides a great lifestyle product and experience that is a rich opportunity for engagement between connected people, spaces and brands. Smart phone users simply swipe a credit/debit or complimentary card to open an available station chamber, plug in their mobile device or accessory to one of three industry standard charging cords, close the chamber and return later to swipe the same card to retrieve their charged phone.
Brightbox also offers additional "key" modalities via RFID and QR card readers, which integrate into event activation and product promotion systems. Rather than offer physical, pin code or fingerprint "key" solutions that are unreliable, often sub-standard solutions for discriminating brands and companies, Brightbox offers intelligent, encrypted solutions that maintain data privacy and security via its highly secure and reliable platform.
Companies, venues and amusement machine operators can leverage intimate and seamless interactions between consumers and the Brightbox charging kiosk, choosing how to project brand image via an innovative menu of content and interactivity options, for high impact and measurable ROI. The Mark3 features a 10" interactive touch screen, with video and slide show capabilities that provide effective delivery of direct sponsor messaging, surveys, customer acquisition, brand offers and promotions. Exclusive offers are also available via branded key or other cards and keys specifically tailored for customers, events and activations.
"Brightbox charging kiosks are an ideal addition to arcades and family entertainment centers as well as to the product lines of amusement machine operators and vendors−there's no cash to collect or inventory to stock," said Billy Gridley, CEO of Brightbox. "Offering a convenient and secure charging amenity allows them to earn direct revenue, increase dwell time and take advantage of sponsorship and advertising opportunities. When kids are dropped off at the arcade, parents don't mind paying extra for a charge card to ensure everyone can still call home when it is time to be picked up."
The Brightbox® Mark3 features a 10" interactive touch screen, customizable swipe cards and a strong brand-messaging platform. The UL and agency certified stations ensure the physical security and data integrity of phones being charged, are PCI compliant with a best-in-class encrypted card reader and meet the highest standards for safety and security. They offer retractable charging cables and chambers that can accommodate nearly any mobile device, including the latest phablets, while delivering the safest fast charge possible at optimized manufacturer recommended rates. No other charging kiosk company offers a similarly competitive, robust platform with such a range of security, engagement and interactivity features.
"We're pleased to be sponsoring the Amusement Expo and enhancing the attendee experience," said Joel Martin, Director of Global Events for Brightbox. "Event professionals use their mobile devices for just about everything at conferences and having the Brightbox solution available for their on site charging needs will keep them delighted, charged and engaged."
About Brightbox
Brightbox® is B2B kiosk technology solutions company providing global venues and users with the best-in-class secure mobile device and accessory charging platform for marketing, sponsorship and venue interaction. Founded in 2011 and based in New York City, Brightbox delivers intelligent and innovative charging solutions and has deployed 500 of its secure charging lockers in 4 countries and 22 states in a variety of event and vertical markets that include hospitality, entertainment, healthcare, retail, education, transport and government.
Event customers include AOL, AdWeek, American Airlines, BBC ComicCon, CEDIA, Citibank, Coca-Cola, Detroit Grand Prix, Discovery Channel, Event Tech, FISH, Gartner, GoPuck, HBO, IBM, IMEX, InCharged, Intel, Jack Morton, Major League Baseball, Minor League Baseball, NFL Experience, Pitney Bowes, Octagon SXSW, PCMA, Smart Source, So Cool Events, Societe Generale, UBS, Verizon, and Wells Fargo.
Enterprise customers include Dream, Hilton, Hyatt, Marriott, Omni, Sheraton, Caesars, MGM, Heineken, Christie's, Rite Aid, Toys'R'Us, Westfield Malls, New York Red Bulls, Tampa Bay Rays, Time Warner Cable, Universal Studios, Baycare, Baystate Health, NY Presbyterian Hospitals, Mount Sinai Health, Orlando Health, Yale New Haven Health, American Airlines, British Airways, Columbia University, and BR CHARGE. Learn more at http://www.brightboxcharge.com and @brightboxcharge
About 2015 Amusement Expo The 2015 Amusement Expo is THE event for the coin op and revenue-generating amusement, music and family entertainment industry. The showcases the latest new equipment for the trade, provides hands-on information for buyers and sellers of the industry, and acts as the primary face-to-face conduit between trade partners in the coin machine business. http://www.amusementexpo.org