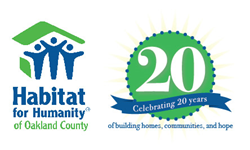 Habitat has the cool factor. Homeownership is the American dream, and together we help empower people to make that dream a reality. ~ Laura Lawson
PONTIAC, Michigan (PRWEB) March 23, 2015
The 1,200 employees at United Shore's headquarters in Troy can donate to Habitat for Humanity of Oakland County easily and quickly through a new payroll deduction option to donate. With no minimum or maximum amount, employees can choose to give to one of two charities selected by United Shore.
New this year, donations via payroll deduction are an attempt to help employees get involved and give back easily and quickly as they see fit, says Chief People Officer Laura Lawson. It's also a way to "strengthen our relationship with the community," she says.
Habitat for Humanity of Oakland County is one of the two designated charities. This marks the third year that United Shore has partnered with Habitat, through dollar donations, sponsored volunteer days on build sites and ReStore donations.
Lawson came up with the idea at the end of 2014, when she realized that the message to "do good" and give back is loudest at the holiday season – but the need is constant year-round.
"People always need a roof over their heads," Lawson says. "We need to pay it forward as a company and continue to do good all year. I don't want all of our charitable and community-building efforts to take place just in December. The payroll deduction helps people give all year."
Habitat is thrilled with the new option for giving from this dedicated corporate partner. "This kind of creative, outside-the-box approach to charitable giving is a great example of what is possible when for-profit and non-profit entities partner," says Joyce Russell, Director of Development. "We are so grateful for the deep relationship we have with United Shore; with a partner like this, anything is possible and we find new and unusual frontiers that help us build more houses for more families seeking homeownership."
Research shows that workplace giving is one of the most successful methods of charitable giving. In 2012, Americans gave $316.23 billion to charity - $3 billion of which comes from workplaces every year. A 2013 report about the increasing importance of workplace giving programs revealed that such programs are even more about engaging employees and creating meaning in the workplace.
Giving has become an important tool for employee engagement, especially among Millennials, who expect such programs to be administered creatively and using technology.
There has been a lot of excitement among United Shore team members regarding the payroll deduction option, Lawson says. The company advertises the option through internal communication channels, reminding employees that they can jump in at any time, and any amount.
"Habitat has the cool factor," she says. "It's back to basics. People can get down with a hammer and nails and really make a difference. And it's a charity that makes sense with what we do as a lender. Homeownership is the American dream, and together we help empower people to make that dream a reality."
United Shore is one of those 21st century companies that creates a sense of community within the workplace. "We're friends; we care about each other," Lawson says. United Shore offers a "brilliant ideas program" where any employee can offer the next big thing and possibly see it come to fruition. Payroll deduction charitable giving is one of many ways United Shore seeks to be "flexible," says Lawson, to help employees not only succeed at work, but in life, too.
Another soon-to-launch option for giving within the company involves Intranet points that serve as a pay-it-forward tool. Employees amass points and can use them to help the greater good – like buying cans of paint or siding for a Habitat house. It's just one more opportunity to give back tangibly and easily through the workplace, Lawson says.
About Habitat for Humanity of Oakland County
Habitat for Humanity is a grassroots organization dedicated to the elimination of poverty and substandard housing. Habitat accepts donated homes or lots, and builds or renovates them in partnership with qualifying families, who pay an affordable mortgage provided through Habitat. Worldwide, Habitat has built and renovated more than 800,000 houses since 1976.
Celebrating its 20th year, Habitat Oakland County has built and renovated homes for more than 190 families in Oakland County over the last two decades. Donate, volunteer or learn more at http://www.habitatoakland.org. Habitat Oakland County is located at 150 Osmun Street, Pontiac, 248.338.1843.
Habitat's vision is a world where everyone has a decent place to live. The non-profit is driven by this mission: Seeking to put God's love into action, Habitat for Humanity brings people together to build homes, communities and hope.
Follow Habitat Oakland County on Twitter: @habitatforhumanityOC
Find Habitat Oakland County on Facebook: http://www.facebook/habitatforhumanityOC
About United Shore
Founded in 1986, United Shore is one of the largest, coolest and fastest-growing independent mortgage lenders in the United States. It is home to United Wholesale Mortgage, the top lender among more of America's independent mortgage brokers. Headquartered in Troy, Michigan, United Shore employs 1,200 team members. In addition to receiving the Cool Places to Work award, United Shore has also been named the "Best of the Best" Overall Company to Work For in Michigan, Top Workplace, and Inc. 5,000 Fastest Growing Company, and a National Best and Brightest Company. For more information, visit unitedshore.com.
Media Requests:
Lynne Golodner
Your People LLC
248:376:0406
lynne(at)yourppl(dot)com