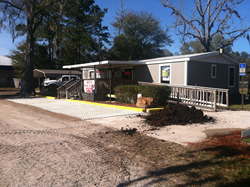 Drivable Grass provides a simple solution to storm water management through biofiltration and improved water storage
Jacksonville, FL (PRWEB) March 31, 2015
Homeowners and landscapers in the Jacksonville, FL area can now see Drivable Grass in action and installed in a parking lot. Super-Sod of Jacksonville just finished installation of a display plot of Drivable Grass at their new outlet located on 103rd Street.
Drivable Grass is a permeable concrete pavement system designed for grass plantings. As an environmentally-friendly, stylish alternative to asphalt and concrete pavement, Drivable Grass qualifies for several LEED credits. LEED, or Leadership in Energy & Environmental Design, is a green building certification program. There are many ways that Drivable Grass will helps builders and building owners qualify for these credits while conserving resources and reducing carbon footprints.
Drivable Grass provides a simple solution to storm water management through biofiltration and improved water storage. The permeable system allows rainwater to gradually seep into the soil below, increasing stormwater storage and significantly reducing potential runoff. When installed for use as drainage channels, bioswale reinforcements or culvert outlets, Drivable Grass can replace the common storm drain or detention basin. Thus, providing a green alternative while also eliminating eye-sores in the landscape.
The low-profile, flexible concrete paving system also promotes superior root growth and moisture retention beneath the Drivable Grass pavers, resulting in healthy turf. Other uses for Drivable Grass include: driveways, parking areas, golf cart paths, and many more low vehicular traffic applications. When used in this manner, the plantable system also counts for required green space, minimizing the loss of valuable site area while reducing Heat Island Effect. Drivable Grass can be purchased at all Super-Sod outlets across the Southeast.
Super-Sod is a family-run business that employs experts in turf and horticulture. One of their most popular products has been their Soil3 organic compost, delivered in a cubic yard BigYellowBag, which they make partially from composted grass clippings from their sod production. Super-Sod continues to develop new garden products, foster gardening and landscaping, and always seeks to improve their farming practices, technology, environmental stewardship, and employee knowledge.