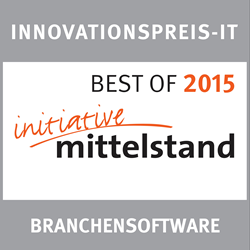 Munich/Ottobrunn, Germany (PRWEB UK) 25 March 2015
EXTEDO, a key eRegulatory Affairs solutions provider for life sciences firms, today announced that its medicinal product database MPDmanager 2014 has received a "Best of 2015" certificate for innovation in the framework of the industry award "INNOVATIONSPREIS-IT" by the German Small and Mid-sized Companies Initiative (Initiative Mittelstand) under the patronage of Microsoft.
Impressed by the great potential and substantial benefits MPDmanager 2014 provides for small and medium-sized businesses, the expert jury elected the solution into the top ten of all applications in the "business solution software" category. MPDmanager 2014 is a corporate medicinal data repository developed by EXTEDO; it provides centralised control of all product information that has been submitted to the European Medicines Agency (EMA) and enables organisations to perform maintenance operations on their data records, including updates and company-specific amendments. The innovative user-interface, which entails many graphical elements, provides a detailed overview of all company products as well as tracking of regulatory deadlines. Updates can be transmitted to EMA via gateway easily.
MPDmanager 2014 is an efficient way of for pharmaceutical companies of being compliant with current and future regulatory requirements including XEVMPD and IDMP.
Since 2004, INNOVATIONSPREIS-IT is presented by Initiative Mittelstand to honour innovative products, solutions and services within the information technology and communications sector that provide substantial benefits to German small and medium-sized businesses.
About EXTEDO
EXTEDO is the key software and service solutions provider in the field of Regulatory Information Management (RIM). EXTEDO's focus is on optimizing clients' eRegulatory business processes. The company's enabling technology, the EXTEDOsuite, is unique in that it covers the complete regulatory landscape including: product registration planning & tracking (IDMP), submission publishing & lifecycle management, pharmacovigilance management and document management. Today, EXTEDO serves over 700 customers in 60 countries, including the EMA and more than 25 regulatory authorities worldwide.
For more information please visit http://www.extedo.com