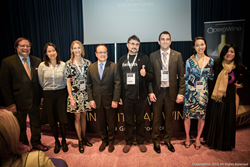 We were very surprised by the quality and high level of knowledge of the five candidates that passed the written exam with the highest scores
Verona, Italy (PRWEB) March 23, 2015
"Every year it gets better and better" is the exclamation uttered by many producers and tasters alike that best describes the fourth edition of OperaWine that saw an incredible 900 + national and international attendees come to taste the wines of Italy's 103 Finest Italian Producers selected by the prestigious magazine Wine Spectator.
Guests of honour for the exclusive premier event to the 49th edition of Vinitaly were the five candidates who achieved top grades during the final written exam of the Vinitaly International Academy Certification Course on Italian wine, thus acquiring the first of the two levels offered by VIA, that of Italian Wine Ambassador (IWA).
Because of the very high standards of the course, that aims to offer an extremely scientific and thorough knowledge of Italian wine, none of the 55 international candidates obtained the second higher level of Italian Wine Expert (IWE).
There was disappointment in the air of course, but many candidates did not lose their cheer considering the Course to have been an extraordinary opportunity to learn many new things and an incentive to do better in the future. And the future may not be too far away since Vinitaly International will be creating many opportunities throughout 2015 to resit the exam in order to become Italian Wine Ambassadors and, for those who have already passed, to take their knowledge to an even higher level and finally become Italian Wine Experts.
"What better way to conclude the Vinitaly International Academy Certification Course after an intense week of classroom and many sleepless hours, finally rubbing shoulders with the great principals and winemakers of OperaWine. Not to mention the true protagonists, the wines themselves" says Stevie Kim, Managing Director of Vinitaly International. "We were very surprised by the quality and high level of knowledge of the five candidates that passed the written exam with the highest scores, they were really amazing. But what mostly impressed Ian D'Agata and I was the great passion shown for Italian wine by all the candidates who, in our hearts, are already Italian wine ambassadors in many ways".
The highest grade of all went to Michaela Morris, co-owner of House Wine, a Vancouver-based consultancy company and guest lecturer for the WSET Diploma Programme. "I have just completed the VIA Certification Course with Ian D'Agata and Stevie Kim and I'm first of all very honoured to have been selected to sit in the course amidst such fantastic wine professionals from around the world and of course to have studied with Ian" she said just after the proclamation with a big smile. "It was an amazing experience and I learnt so much in just four or five days. I don't know how I felt after the exam, I didn't know how I did but I knew that I had learnt so much and for me this was the most important thing. The reason I came here was to learn more about Italian wine. I would like to go back to Vancouver and share it with everyone because I feel that Italian wine is something people are really interested in but are confused about at times. Education is really key in terms of helping people appreciate it more and introducing them to some amazing amazing wines".
From Canada to China with Lingzi He, the candidate to have achieved the second highest score of the first level of certification: "In the past week we had a really intense course and although the material was very technical and scientific, I think we all had a great time. And Ian is a very good professor. It is amazing that we tasted so many wines and spoke about so many wine regions and I must say that before coming here I knew about Italian wines but the course consolidated all that I have learnt. I have become an Ambassador among the top 5 and I'm very lucky but at the same time I worked very hard too. I am convinced that it will help me teach what I have learnt to the Chinese wine lovers and professionals and pass on the love and passion for Italian wines". A free-lance wine journalist and educator, Lingzi He left on Saturday evening for Chengdu where she will be holding today and tomorrow three Executive Wine Seminars of the Academy on the occasion of Vinitaly China at the Kempinski Hotel, a good example of how VIA creates job opportunities for its graduates.
In order of top scorers the other three candidates were Sarah Heller from China and owner of Heller Beverage Advisory in Hong Kong and Luiz Alberto and Tony Polzer, both from the USA and both wine educators but, above all, "wine lovers".
"I have just finished what has probably been the most intense week of wine in my entire life" added Mr Polzer, "but I can say that I have been working in the Italian wine sector for quite some time and for me this week kind of rapped it up and consolidated it all. And now I feel that my knowledge of Italian wine has risen to a higher level and that is primarily thanks to Doctor Ian D'Agata".
VIA's scientific director, Ian D'Agata, was very happy with the experience:" It was a tough week, with 8-9 hour days of lectures and wine tastings, yet nobody complained and all had fun while immersing themselves in a learning environment. Clearly, not all the candidates had the same level of knowledge, but what struck me was just how willing all the students were willing to roll up their sleeves and study more. True, we failed roughly half of them, which is a testament to the course's seriousness and credibility, but I am absolutely positive that all who will retry the exam next time will pass and become at the very least Ambassadors".
But the key to success for producers wanting to export their wines abroad is not only education, it has a lot to do also with communication as emphasized by Vinitaly International with the second edition of the twitter contest #BestOperaWine aimed, on the one hand, at giving visibility to the 103 wineries protagonists of the event and, on the other, at driving them to fully understand the importance today of social media. The challenge was taken up and Tommasi Winery was the final winner.
"OperaWine is a very prestigious event and we were very happy to attend" said Pierangelo Tommasi, marketing director of the winery. "We are actually from Verona originally and to have OperaWine and Vinitaly in our city is a great honour. It is a special day today also because we are the winners of the twitter contest and feel very proud of that. We truly believe in social media communication, twitter in particular, and we think it very important to forward the right message in the right way in order to touch the hearts of many people. To have been chosen among other 103 producers is a great honour".
About:
Wine Spectator is the world's leading authority on wine that reaches more than 3 million readers worldwide, exploring wine's role in contemporary culture and delivering expert reviews of more than 15,000 wines each year. Wine Spectator is solely responsible for the choice of producers at the event.
Veronafiere is the leading organizer of trade shows in Italy including Vinitaly (http://www.vinitaly.com), the largest wine and spirits fair in the world. During its 48th edition Vinitaly counted some 155.000 visitors and 4.000 exhibitors on a 100.000 square meter area. The next edition of the fair will take place on 22 – 25 March 2015. The premier event to Vinitaly, OperaWine (http://www.vinitalyinternational.com) "Finest Italian Wines: 100 Great Producers," will unite international wine professionals on March 21st 2015 in the heart of Verona, offering them the unique opportunity to discover and taste the 100 best Italian wines, as selected by Wine Spectator. Since 1998 Vinitaly International travels to several countries such as Russia, China, USA and Hong Kong. In February 2014 Vinitaly International launched an educational project, the Vinitaly International Academy (VIA) with the aim of divulging and broadcasting the excellence and diversity of Italian wine around the globe. VIA is now ready to present the first edition of its VIA Certification Course to be held in Verona from the 16th to the 20th of March 2015 with the aim of creating new Ambassadors of Italian Wine in the World.
###