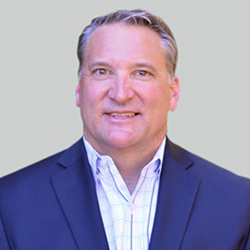 I am looking forward to...providing employers with a proven weight management solution that delivers sustainable outcomes and a positive ROI. --Retrofit Vice President of Sales and Account Management Matthew Schoenthaler
Chicago, Ill. (PRWEB) March 24, 2015
Retrofit, the company driving leading weight loss outcomes at the nation's top employers, announces today that it has recruited former Johnson & Johnson executive Matthew L. Schoenthaler to lead its sales and account management team.
Schoenthaler joins the recent high-talent hires at the comprehensive national weight management solution, signaling steady growth for the company as it makes aggressive moves into the corporate weight loss space. CEO Mary Pigatti has recently added technology, healthcare and people leaders to assist with innovation and employee engagement for the fast-growing company, which was named one of the best companies to watch for 2015.
"Retrofit is thrilled to add this key addition to our leadership team," said Pigatti. "Matthew is well known for his high-energy, consultative and passionate commitment to health improvement. He is a proven industry leader who is respected by employee benefit consultants and decision makers at the nation's largest companies."
"Retrofit's ability to attract some of the country's best and brightest is testament to our culture and the sustainable outcomes that we deliver to our customers," said Pigatti.
Schoenthaler brings more than 15 years of healthcare industry experience, specifically in behavioral change and wellness, to his new role at Retrofit. He recently held the position of Vice President of Market Development for the Human Performance Institute of Johnson & Johnson, Inc., and VP of Sales for Wellness & Prevention, Inc. Prior to J&J, Matthew also served in sales leadership roles at Cigna and Health Net. He is actively involved in many trade groups and has proudly served on several industry boards including Integrated Benefits Institute and Institute for Health & Productivity Management.
Four out of ten of Fortune's "Best Companies to Work For" use Retrofit. Headquartered in Chicago, Ill., the national weight management company has been making national headlines as it aims to deliver the most personalized, effective and sustainable results. In fact, 90% of its clients lose weight and 68% keep it off 18 months later. Retrofit clients are two times more satisfied than those on other weight loss programs, according to a recent customer satisfaction survey.
Retrofit delivers a turnkey solution for weight loss, including proactive one-on-one coaching, interactive video classes and expert moderated communities that work with cutting-edge mobile apps and devices. Current corporate customers include Google, Salesforce.com, DeVry Education Group, the American Hospital Association and more.
"I am looking forward to contributing to the expansive growth at Retrofit and providing employers with a proven weight management solution that delivers sustainable outcomes and a positive ROI," said Schoenthaler. "I am energized by the fact that Retrofit is transforming lives and workplaces with its personalized, holistic solution. I am excited to help Fortune 1000 employers combat the obesity epidemic and help employees get happier and healthier."
About Retrofit
Retrofit provides a science based, tech-enabled proven approach to weight loss, delivered with the human touch of multi-disciplinary certified wellness experts. Retrofit is the truly personalized, holistic weight management solution that transforms lives and workplaces. Retrofit expert nutritionists, exercise physiologists and behavior coaches help individuals and corporate employees address underlying behavioral issues, and close the gap between what they know and what they do, in order to help them lose weight and live a healthy life they love. Retrofit has raised $15.7 million in venture financing, led by Draper Fisher Jurvetson (DFJ). Cambia Health Solutions also participated. Retrofit can be found on the Web at RetrofitMe.com and by calling 855-4-RETROFIT. Follow the company on Facebook and Twitter at @retrofitme.