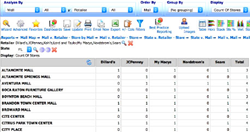 Learning which location's presentation, pricing or color/size assortment is best can enable the vendor to recommend more optimal - and ultimately profitable - solutions to their buyers. -Jim Lewis, Founder and CEO of Enhanced Retail Solutions
New York, NY (PRWEB) March 24, 2015
Enhanced Retail Solutions (ERS), a leading provider of Software-as-a-Service (SaaS) retail analytic and demand planning solutions to suppliers, their retail trading partners and licensors, today announced a new feature to their Retail Analytic Software. Users can see which retailers are in a particular mall. This functionality also tracks pricing and item performance at multiple retailers in the same location. Besides tracking existing item performance at multiple retailers across the same location, it can be used to find allocation opportunities, improve price optimization and provide deeper market information about items and categories. Users can filter by state, store number, zip code, or mall name. More than twenty major mall/plaza based retailers have been included.
The software does this study in an easy and automated fashion and will be rolled out to all Retail Synthesis clients.
"We have been asked by many of our vendor clients to come up with this capability" said Jim Lewis, Founder and CEO of Enhanced Retail Solutions. "It will now be significantly quicker and easier to see how product performance may differ within the same area. Learning which location's presentation, pricing or color/size assortment is best can enable the vendor to recommend more optimal - and ultimately profitable - solutions to their buyers."
About Enhanced Retail Solutions LLC:
Enhanced Retail Solutions is software and consulting firm specializing in Retail Analysis and Demand Planning for manufacturers, licensors and their retail partners. ERS' state of the art software tools and consulting deliver critical data quickly, easily and cost effectively, adding over one hundred million dollars to their clients' bottom line. ERS' broad customer base includes industry leaders in the electronics, consumer products, apparel, footwear, home textile, toy, home décor, home improvement, housewares, jewelry and food industries. Headquartered in New York City, Enhanced Retail Solutions has offices in the Dallas, TX and development in the US, Cork, Ireland and Delhi, India. For more information, visit http://www.EnhancedRetailSolutions.com.