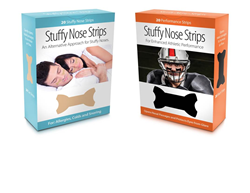 An Alternative Drug-Free Approach for Stuffy Noses
New York, NY (PRWEB) March 25, 2015
Millions of people suffer everyday from breathing issues as a result of nasal congestion. Overtime these issues can be detrimental and take a toll on an individual's health. From Allergies, to Colds and Flus, to Sinusitis and Snoring nasal congestion comes in various forms.
Determined to find a solution and relief for their own nasal congestion, the founders of Stuffy Nose Strips decided to take matters into their own hands. After years of research and development serial entrepreneur and father invented and developed a new approach to relieve stuffy noses. Introducing Stuffy Nose Strips!
Stuffy nose strips are innovative external nasal dilator strips that provide a unique drug-free approach to nasal congestion as well as athletic performance enhancement applications.
Unlike the majority of nose strips on the market today that go across the bridge of your nose, Stuffy Nose Strips adopts a different approach to opens nasal passages. Their strips work by utilizing a flexible skin friendly adhesive to gently pull the skin just left and right of the nostrils. As a result of leverage and covering more surface area of the skin Stuffy Nose strips are an effective new alternative.
In addition to an "At Home" version, Stuffy nose strips also come in a "Performance" version. The performance version provides a way for athletes to increase oxygen intake during strenuous physical activities. In addition to opening airways their black strips provide anti-glare feature to give it a dual purpose.
Anyone who is interested in finding out more about the products that Stuffy Nose Solutions has to offer can do so here: http://www.stuffynosestrips.com.
About the Company:
Stuffy Nose Solutions, LLC is a company that was founded by son and father duo in an effort to help as many people as possible who deal with various forms of nasal congestion. As a result of their products being drug free they have gained popularity for dealing with unpleasant stuffy noses. For additional information contact customer service@stuffynosestrips.com.