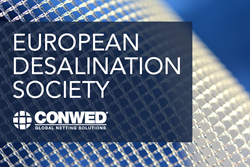 Minneapolis, Minnesota (PRWEB) March 23, 2015
Conwed, the leading plastic netting manufacturer in the world, has joined the European Desalination Society (EDS), an organization for individuals, corporations, research institutes and government agencies concerned with and interested in desalination, membrane and feed spacer technologies for water treatment. Founded more than 50 years ago and headquartered at the University Campus Bio-Medico of Rome, in Italy, EDS is focused on promoting desalination, water reuse and water technology development worldwide.
The concern caused by the increasing number of people with no access to fresh, drinkable water, is making reverse osmosis (RO) a vital water treatment technology worldwide. Desalination research and technology has grown exponentially in recent years and has gathered a large community of scientists and engineers seeking and building solutions to problems of energy consumption, efficiency management and environmental impact. EDS provides a forum for interdisciplinary exchange of ideas, opinions and challenges in the desalination industry.
"We understand the impact RO technology has and will have on water availability around the world and we want to be part of the community committed to develop next generation products, such as feed spacers, that can impact water treatment performance," said Ivan Soltero, Strategic Marketing Manager at Conwed.
Conwed manufactures a full line of feed spacers that are part of layer configurations in RO spiral wound elements. With over 45 years of experience in diverse industries, Conwed is heavily investing in R&D to analyze and understand how feed spacers can help address membrane damage, biofouling and pressure drop; the three main challenges found on any RO operation.
"Most of the innovation has come from membrane developers. Our goal is to collaborate with the desalination community to share, bounce and test ideas, as we believe the next wave of innovation could come from the feed spacer," said Soltero.
An RO spiral wound element is a filter comprised of different layers. It contains membrane, feed spacer and permeate sheets rolled up around a product collection tube. The feed spacer provides the necessary gap between other layers to promote turbulence of the feed stream. Depending on the chemical and design configuration, feed spacers can influence membrane damage, biofouling and pressure drop. EDS covers all kinds of desalination technology but reverse osmosis dominates more than half of the installed desalination capacity worldwide.
For a complete overview about how Conwed feed spacers can impact reverse osmosis visit http://www.conwedplastics.com/ro.
About Conwed
Conwed is the leading plastic netting manufacturer in the world. Conwed manufactures extruded, oriented and knitted netting with unique customization capabilities. Headquartered in Minneapolis, Minnesota, Conwed has five manufacturing locations on two continents and a global distribution network.