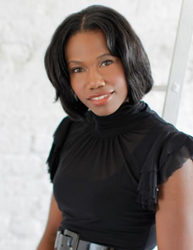 There is a light needed in the Kingdom.
Atlanta, GA (PRWEB) March 23, 2015
Dionne Carole was a teacher for 12 years, which later landed her position as a school administrator. One day, her friend told her about an audition in New York City. With no guarantee of the outcome, Dionne left her successful career: "I took a great leap of faith…and took the job in New York. I can honestly say that God has been so good ever since." Dionne attended AMTC's SHINE Winter 2011, and her life radically changed.
"AMTC's SHINE Conference taught me that there is a light needed in the Kingdom," Carole says. "When I auditioned and was accepted, something deep inside my spirit was saying 'Yes, yes, yes. Go.' It was permission for me to not feel bad leaving home and leaving church, and going into uncharted territory."
Since SHINE, Carole has held contracts with numerous tours, starred on international cruise lines, travelled to Japan with 'Dream Girls,' won the Mcdonald's Gospel Fest and stars in the annual tour of 'Faces Of Black History.' She has even taken her solo artist career to a "whole new level," releasing music with major distributors.
On March 20, 2015, Dionne released a video and statement supporting the ministry of Actors, Models and Talent for Christ. She encourages everyone who wants to see positive role models in media to become AMPs (AMTC Monthly Partners).
Pay What You Pray (PWYP) is AMTC's revolutionary open-door policy for tuition. If someone auditions to join the program and receives a callback, AMTC requires prayer to confirm God's call. "If you'd like to join me in making good bolder in the entertainment industry, and helping to change the lives of others, please take the time to visit paywhatyoupray.org," Carole says.
AMTC is a three-generation family business started in 1982 by industry icon Millie Lewis and her daughter Carey Lewis. In 2012, Carey and her family gave up ownership of AMTC. Actors, Models & Talent for Christ is now a 501(c)(3) non-profit dedicated to promoting stars for God on the stages of film, fashion, music and theater. PWYP is another step in trying to do God's Will in helping performers.
AMTC is asking for 2015 AMPs in 2015. Visit paywhatyoupray.org and partner with the organization today.