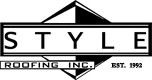 Gainesville, VA (PRWEB) March 24, 2015
Style Roofing, a family owned company out of northern Virginia that provides roof replacement to the greater Washington DC metropolitan area recently launched a consumer outreach program, and has since received five-star ratings from CustomerLobby.com in the areas of Service, Will Recommend, and Total Experience.
"Whether it's a high performance underlayment or a roofing nail, we only use the best products available in the market today," said Bill Rafferty, Owner of Style Roofing. "We are committed to providing excellent service to each and every one of our clients."
Customer Lobby, LLC reviews management and syndication application enables businesses to collect, manage and publish customer reviews online. Using Customer Lobby, businesses can get more customers, build their online reputation and capture leads from automated outreach.
About Style Roofing
Family owned since its inception 23 years ago, Style Roofing has years of experience providing roof replacement and installation services to customers throughout Northern Virginia. Style Roofing leaves each property with a beautiful aesthetic, ultimately providing clients with a peace of mind regarding the safety of their family and their investment. Every one of the company's Virginia roofers has been properly trained to install and replace a wide variety of roof materials and types. Our diverse line of products can be tailored to meet any architectural need and budget.
For more information, visit http://www.styleroofing.com