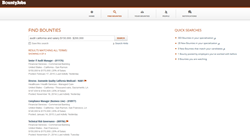 "This changes the game because it keeps us in tune with only the jobs we care about"
New York, New York (PRWEB) March 25, 2015
BountyJobs, the recruiting marketplace that simplifies and elevates the entire direct hire agency process, released a major upgrade to the agency side of their portal this month. Specialized recruiting agencies can now use customizable search algorithms to find employers and jobs that match their specialization.
Within the first five days of the release, the new agency interface had been used by more than 3,100 agencies to perform 36,000 customized searches for jobs that match their candidate talent pools.
"This caters to niche firms like ours," said Tom Caravela of The Carolan Group, a pharmaceutical search firm specializing in field based medical affairs professionals. "When we first started, we'd work on a variety of jobs, but now we're 100% focused on our area of expertise. This changes the game because it keeps us in tune with only the jobs we care about".
The agency refresh comes two years after BountyJobs released a similar overhaul of the employer interface in 2013. Both releases streamlined the industry-leading platform, adding significant features that help employers simplify and elevate the entire process of using recruiting agencies to fill jobs. The new upgrade helps agencies spend less time searching and more time engaging:

Pro Level Search: New search algorithms allow agencies to see only those jobs they care about – by industry, job function and salary range. Direct hire agencies get notifications immediately when a job fitting their specialty is posted to the marketplace
Jobs That Need You: Employers that need help urgently on open jobs can now tag them to indicate varying levels of priority, with technology preventing employers from tagging every job as "ASAP"
New Employer Statistics: Although BountyJobs has long provided marketplace-wide metrics to help employers benchmark agencies on metrics like interview rates, the new release provides agencies with similar metrics to screen employer responsiveness.
_____
BountyJobs is a recruiting agency marketplace that helps employers simplify the entire process of using direct hire agencies. BountyJobs gives employers comprehensive benchmarking data and unrivaled vendor management — all through one portal, with one contract, integrated directly with their ATS and backed by extensive industry expertise and support. Visit https://www.bountyjobs.com/blog
###