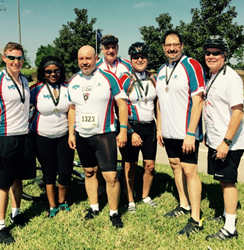 Altamonte Springs, FL (PRWEB) March 23, 2015
BioPlus Specialty Pharmacy (BioPlus), one of the nation's leading innovative specialty pharmacies, participated on March 15, 2015 in the American Diabetes Association Tour de Cure at Lake Nona. The Tour de Cure is a series of fundraising cycling events benefitting the American Diabetes Association. Riders of all levels join forces in the fight to stop diabetes and raise funds for diabetes research, education and advocacy in support of the American Diabetes Association.
This year, world renowned coach and trainer for Lance Armstrong Chris Carmichael participated as a special celebrity guest rider for the fundraising event. Cyclists chose from several different routes which included 100, 63, 50, 25, or 10 mile distances through Lake Nona. The event had over 1,200 riders and 15 corporate teams participate in the fundraiser. The BioPlus cycling team raised over $4,500 and together, the Tour de Cure raised $534,000 towards finding a cure for diabetes.
Several BioPlus employees rode in the Tour de Cure, including Dr. Stephen Vogt, CEO and President, Dr. Elvin Montanez, Senior Vice President, Dr. Nick Maroulis, VP of Specialty Pharmacy Services, Dr. Hank Graybeal, Assistant Director of Pharmacy, Dr. Kimberly Hicks, Clinical Pharmacy Specialist, Michael Karlesklint, Sales Representative, and Chistopher Castro, Help Desk Support. The BioPlus riders carried a card with the names of employees and loved ones who need a cure for diabetes.
"Our team rode a total of 375 miles and raised over $4,500 for a cure!" says Dr. Maroulis. "BioPlus is dedicated to promoting better treatments and cures for complex diseases, and we are very proud to support this type of event."
Support for the Tour de Cure was not only on the roads, but on the sidelines as well with BioPlus being the top SAG (rest stop) for cyclists to stop and take a break. Bright colors, cow-bells, music, loud cheers and stylish tutu's from the BioPlus volunteer team brought the needed energy and support for all of the determined cyclists.
"The BioPlus SAG was the talk of the event! They were so energetic and a great pick-me-up for all of the cyclists" shares Dr. Vogt. "I am extremely proud of our team for participating in this amazing event which will one day assist in the cure of diabetes."
About BioPlus Specialty Pharmacy
BioPlus Specialty Pharmacy is the first specialty pharmacy to introduce a two hour turnaround from referral to patient acceptance. BioPlus... Where healing begins in 2 hours. Our company celebrates 25 years of excellence in specialty pharmacy, working closely with payers and the pharmaceutical industry, as well as with prescribers to get prompt treatment for patients, and directly supporting our patients nationwide to achieve optimal health outcomes. Our proprietary web tool Tap App, connects prescribers to the pharmacy by bringing the pharmacy chart into the doctor's office with real-time specialty pharmacy information and treatment monitoring.
BioPlus provides a complete range of specialty services, including for hepatitis C, cancer, bleeding disorders, and other complex, chronic conditions. BioPlus, a privately-held, pharmacist-owned company based in Altamonte Springs, Florida, is accredited by URAC, VIPPS, and the Accreditation Commission for Health Care (ACHC).
For information: http://www.bioplusrx.com
Contact: info(at)bioplusrx(dot)com
Phone: 1-888-292-0744