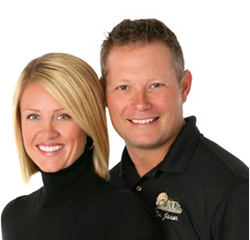 Live Life at 100%
Colorado Springs, CO (PRWEB) April 01, 2015
On April 1st, 2015, Dr. Jason Helfrich, co-founder of 100% Chiropractic, will appear as a guest on Better TV to discuss the epidemic known as "Text Neck." The average human head can weigh 12 pounds and depending on the varying angle in which it is bent forward, such as when bent to look at a cell phone, the weight on the cervical spine can cause poor posture often times leading to wear and tear of the spine and degeneration. As more and more people spend hours on their cell phone device emailing, keeping up with social media and catching up on the news, blogs and other entertainment, this epidemic is spreading.
Dr. Jason spends his time on the show discussing how chiropractic care can help alleviate the pain caused by this problem. Maintaining a healthy and well-adjusted spine will help create better posture to compensate for a higher volume of cell phone usage.
100% Chiropractic, http://www.100percentchiropractic.com, is a growing company with several locations across six states including Colorado, Georgia, Texas, Florida, California and Tennessee. They began with one practice in Colorado Springs in 2004 and have since expanded throughout Colorado and other states. Their motto is to live life at 100% and "Let Our Family Take Care of Yours."
Tune in to Better TV on April 1st and learn the causes of "text neck" and how chiropractic care is the answer to better your posture and alleviate the pain and loss of wellness.