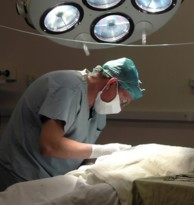 There are more stable intraoperative conditions in the closed abdomen HIPEC.
Raleigh, NC (PRWEB) March 25, 2015
Cancer surgeons in Greece say elderly or fragile peritoneal mesothelioma patients may benefit from a less invasive method of delivering heated chemotherapy drugs to their abdomen. Surviving Mesothelioma has just posted news of the study on its website. Click here to read it now.
Doctors at several Greek hospitals tested two types of HIPEC procedures on 105 patients with mesothelioma or another abdominal malignancy. The 60 patients who had HIPEC before their surgical wound had been closed experienced more complications and more physical stress than those who received HIPEC through tubes after they had been stitched up.
"There are more stable intraoperative conditions in the closed abdomen HIPEC in CVP (central venous pressure), pulse rate, and systolic pressure parameters," writes lead author Evgenia Halkia, MD, of the Mextaxa Cancer Hospital in Pireaus, Greece.
For this reason, Dr. Halkia and her colleagues conclude in the International Journal of Surgical Oncology that this closed technique is likely best for frail patients with peritoneal cancers like mesothelioma.
"Cytoreductive surgery with HIPEC is one of the most effective ways to treat peritoneal mesothelioma, but it is riskier for some people than others," says Alex Strauss, Surviving Mesothelioma's Managing Editor. "This study suggests that even sicker patients could get the benefits of HIPEC with less of the risk if the procedure is modified."
For more on how the study was conducted and the outcomes of different groups of HIPEC patients, see HIPEC Variation May Benefit Frail Mesothelioma Patients, now available on the Surviving Mesothelioma website.
Halkia, E et al, "Peritoneal Carcinomatosis: Intraoperative Parameters in Open (Coliseum) versus Closed Abdomen HIPEC", February 15, 2015, Epub ahead of print, International Journal of Surgical Oncology, http://www.hindawi.com/journals/ijso/2015/610597/
For nearly ten years, Surviving Mesothelioma has brought readers the most important and ground-breaking news on the causes, diagnosis and treatment of mesothelioma. All Surviving Mesothelioma news is gathered and reported directly from the peer-reviewed medical literature. Written for patients and their loved ones, Surviving Mesothelioma news helps families make more informed decisions.