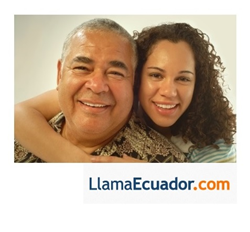 Atlanta, Georgia (PRWEB) March 25, 2015
LlamaEcuador.com runs a special promotion that allows expats who left Ecuador to send a gift home before Easter. The Bonus consists of 100% free Claro balance that applies to regular tops up of minimum $5 on LlamaEcuador.com. The promotion lasts until the end of March 2015 and the extra credit is valid for calls to Claro Ecuador and text messages to all networks in Ecuador.
The promotion is an alternative that helps avoid Easter shopping craze, as well as shoppers on the rush. Here are some reasons why:
-Claro mobiles in Ecuador can be refilled from any part of the world.
-Most importantly, it takes 1 minute or less to send mobile credit online from country to country.
-Thirdly, anyone can pay with any major card or Paypal balance, no matter the currency of the account.
-It is a way to save money by sending extra credit without paying for it.
The 100% extra balance is valid for three or seven days, depending on the amount sent. The bonus becomes active starting the date of the recharge and can be used by relatives and friends in Ecuador to call any Claro number and/or text any number in the country.
Strong points of this promotion are:
-Top ups get to Claro mobiles in Ecuador instantly.
-Less than 1 minute to carry out the top up online on LlamaEcuador.com.
-Anyone can send more than 1 top up until March 31st from the same account and benefit from the offer.
-Best deal on the market at this time.
-Highest mobile recharge value on the market.
Top ups on LlamaEcuador.com available all year long. For those who want to know what what networks are available for top ups from relatives abroad, here is a list:
-Movistar
-Claro
-CNT
Promotions run on LlamaEcuador.com weekly and sometimes even daily, making available up to 500% Bonus on top ups to different mobile networks in Ecuador. Bonuses consist of different packages, including local and/or international calls, data and/or SMS, according to the Terms and Conditions of each promotion.
To stay updated for special offers, one can subscribe to the Newsletter by pressing the button "Get offers" in the footer of the website: http://www.llamaecuador.com/buy/mobile_recharge
Besides the Mobile Recharge service, LlamaEcuador.com offers Voice Credit to call Ecuador in 3 simple ways:
1. KeepCalling app for international calls and SMS (no costs to install it on iPhone, iPad and any Android device)
2. Local or toll free access numbers for calls from any phone (landline, mobile, payphone) to any phone; no Internet connection needed.
3. Web Call/SMS app for desktop-to-phone calls and SMS (no download needed, no extra costs besides the Voice Credit balance)
About LlamaEcuador.com
LlamaEcuador.com is an interactive website designed by KeepCalling, a global telecommunications company registered in 2002 in USA. Presently, KeepCalling provides its services to hundreds of thousands of consumers and businesses, with a focus on customer satisfaction. KeepCalling has been listed by Inc 5000 in top 20 telecom companies in the USA for the last 4 years. In 2014 the company was designated the 18th fastest growing company in the telecommunications industry in USA with a revenue increase of over 600% from 2010 to 2013.