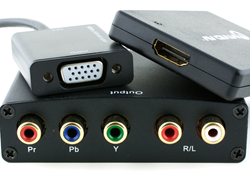 Cables N More is committed to providing our customers with everything they need to install their high-end home electronic devices
Quakertown, PA (PRWEB) March 24, 2015
In response to the growing demand for premium-quality audio-video cables, connectors and display mounts from A/V professionals and homeowners, Cables N More now offers Vivid AV products.
According to George McDowell, Vivid AV is an industry-leading manufacturer that has a strong reputation for delivering specialized, professional-grade cables, connectors and mounts at highly competitive prices. Vivid AV cable products and TV mounting accessories are designed to provide reliable installation options for LCD monitors, televisions and tablet computers.
"Cables N More has a long-standing reputation as the premier source of hard-to-find cables and accessories," said George McDowell. "Lately there's been an increased demand for high-quality, specialized connectors for today's complex home audio and video installations that often include multiple devices such as smart televisions, digital video recorders and Wi-Fi enabled media streaming boxes. Vivid AV offers many unique installation solutions, including dual-LCD monitor mounts, table mounting brackets for vehicles and video adapters."
"Cables N More is committed to providing our customers with everything they need to install their high-end home electronic devices, so adding Vivid AV audio/video products to our lineup is a great fit for us," said Jeramie Cavanaugh "audiophiles and discerning consumers can now choose and order professional-grade A/V extenders, cables, splitters and switches from the comfort of their home or office, and enjoy fast domestic shipping on all their purchases."
According to George McDowell, Cables N More sells a wide variety of A/V installation products and accessories, including computer, HDMI, coaxial and SVGA cables, with a focus on delivering reliable, hard-to-find products at affordable prices.
About Cables N More
Cables N More is the leading American e-commerce supplier of high-quality A/V connectors, cables, adapters and splitters for both homeowners and the A/V and telecommunication installation industry. They stock a wide range of specialized TV and monitor mounting solutions, telephone accessories and fiber optic cables.
For more information, visit CablesNMore.com.