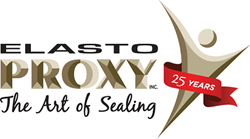 It's important to understand rubber's physical properties so that you can ask for elastomers that will meet your application requirements
Boisbriand, Quebec, Canada (PRWEB) March 25, 2015
Elasto Proxy, leading supplier of custom seals and specialty insulation, is announcing a new on-line article called Physical Properties of Rubber – Basics for Buyers and Designers. The industrial gasket fabricator has also released a short video that illustrates the article's main points.
The Right Rubber for Custom Seals, Gaskets, and Insulation
As Elasto Proxy's new article explains it's important to understand rubber's physical properties so that you can ask for elastomers that will meet your application requirements. The physical properties of rubber include material hardness, tensile strength, tensile modulus, elongation, resilience, compression set, tear resistance, abrasion resistance, and specific gravity.
As an experienced custom fabricator, Elasto Proxy can help technical buyers, product designers, and engineers to choose the right rubber for seals, gaskets, and insulation. There are many different types of rubber, which can make compound selection challenging. To learn about the physical properties of rubber, read the technical article or download the PDF (if available) that accompanies this press release.
About Elasto Proxy – How Can We Help You?
Elasto Proxy specializes in the design and custom fabrication of specialty seals, thermal and acoustic insulation, vibration dampening products and materials, EMI shielding, and other high-quality rubber and plastic parts. For over 25 years, we've supplied low-to-medium volume quantities of high-quality rubber products to partners in a variety of industries.
As a growing global company, Elasto Proxy has offices and warehouses in Canada, the United States, and China. By listening to all of your requirements and analyzing all of your needs, Elasto Proxy's solutions providers can recommend solutions that are right for your application. How can we help you? Contact us for more information.
Media Contact:
Clyde Sharpe
General Manager
Elasto Proxy Inc.
4035 Lavoisier Street
Boisbriand, Quebec, Canada J7H 1N1
csharpe(at)elastoproxy(dot)com
Ph: (450) 434-2744