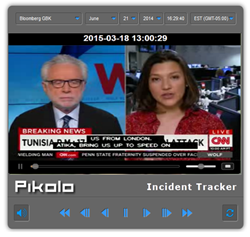 With this integration, users will see immediately what was broadcast at the exact point the discrepancy occurred.
Dallas, Texas (PRWEB) March 24, 2015
Dallas, TX, March 13, 2015 - Pikolo Systems, a leader in incident tracking and operations management workflow, has announced a technology partnership with Digital Nirvana, developers of a media management platform for content creation, capture and delivery. Pikolo's Incident Tracker ™, a discrepancy reporting solution, now communicates seamlessly with Digital Nirvana's Media Management Platform. The integration delivers full cycle discrepancy reporting by integrating video verification.
Vernon Omegah, Pikolo's VP of Technology states, "Incident Tracker has always been at the forefront of innovation. This integration continues that quest by combining the best features of the two systems and the result is a win-win for broadcasters. The benefits start in master control, but extend to all departments including traffic and news."
The integration will be on display at the Digital Nirvana's NAB Booth #SU8813 at the NAB 2015 convention in April 2015 in Las Vegas.
"Users want to know immediately what was broadcast at the time of a discrepancy," said Hiren Hindocha, Digital Nirvana's Co-Founder, President, and CEO. "For example, if an encoder goes down in a station, an operator will receive a discrepancy report saying where and when the encoder went down. With the Pikolo/Digital Nirvana integration, they can also see video of what was broadcast precisely when that encoder went down."
Incident Tracker is the #1 rated discrepancy solution for broadcasters. Content managed with Incident Tracker reaches more than 1 billion viewers daily. Incident Tracker is designed specifically for broadcast operation with an emphasis on: ease of use, data consistency, accountability, assessment and staff engagement.
Media Management Platform Version 2.0 adds the ability to publish audio/video content to popular social media platforms. Broadcasters and content owners can work with Digital Nirvana's dedicated team to handle time-intensive tasks, such as: reviewing broadcasts and locating clips, tagging content, writing headlines, and customizing social media postings.
About Digital Nirvana
Since 1996, Digital Nirvana has been empowering customers with innovative knowledge management technologies. By combining media and digital technology expertise, Digital Nirvana makes it possible for organizations to streamline operations and gain competitive advantage with advanced product and service offerings. A comprehensive service portfolio includes media monitoring and analysis, market intelligence and analytics, and learning management services. Digital Nirvana is headquartered in Fremont, California with offices in Hyderabad and Coimbatore, India.
About Pikolo Data Systems, Inc.
Pikolo is an innovative software company pioneering best-in-class, client-centric solutions for managing, sharing and distributing business data. Since 2002, Pikolo has been providing solutions that empower our clients by digitizing workflows. These process improvements increase staff engagement and resource utilization, while providing accountability. Pikolo Systems is headquartered in Dallas, Texas.