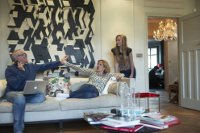 (PRWEB UK) 24 March 2015
The Legal & General home insurance team recently conducted a survey on people's intentions for moving home and it's provided some positive signs for the property market in 2015.
The team have also highlighted some helpful tips and reminders around things to consider for anyone who is moving, like changing addresses at banks and utilities, home insurance and a few more.
22% of people plan to move home in 2015.
10% of people plan to buy a house in 2015.
29% of those moving in 2015 intend to upgrade their home.
Results show that 22% of people in the UK plan to move (buy/rent) in the next 12 months, which is a 4% increase from those who actually moved in 2014.
The reasons for moving show optimistic attitudes for the year ahead:
29% of those who plan on moving in 2015, plan on upgrading to a larger property.
A further 18% will be moving due to a change in family circumstances.
12% intend to move for financial reasons.
10% of people intend to move due to work commitments.
Where are people moving to?
Internal migration figures from the Office for National Statistics* show the regions in the UK with the highest growth are:
South West: 21,000
South East: 24,900
East: 17,500
Figures are in thousands and show net changes of individual UK residents between local authorities.
One of the main appeals for any move to a new home or area is the improvements in standard of life that an upgrade in property can sometimes offer. In the UK the most desirable postcodes** can be found in:
England: Tidworth, Wiltshire (SP9)
Scotland: South Glasgow (G44)
Wales: Brynteg, Isle of Anglesey (LL78)
Tips to consider if moving in 2015
For anyone who is planning to up-sticks to a new area or even a street away from where they are currently living, here are some helpful tips that could prove useful:
Zoopla - can provide useful information in relation to how much properties are renting and selling for in any given area.
Bills, banking and address changes - even for people who are really organised and change their address for all household bills and services, it's a good idea to have the mail redirected for a few months, which can be done via the Post Office. For further information refer to Royal Mail.
Check cover - when moving address, it's important to make sure insurance companies are informed. Home insurance, Motor or any other kind of protection cover may change depending on the new address, change in property and location.
It's also a good idea to check policy documents and booklets, as these should have the companies' contact details in them.
Data Sources: Legal & General 'moving home survey' data - survey carried out 5th - 18th December 2014.
Conducted by Legal & General across multiple third party websites. 1,534 total respondents.
** UK Most desirable postcodes data; commissioned by Royal Mail.