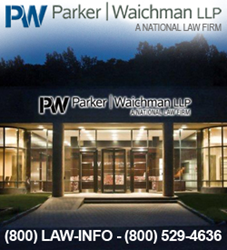 These new studies add to a growing body of evidence suggesting that power morcellators should not be used due to a risk of spreading hidden cancers
Port Washington, New York (PRWEB) March 24, 2015
Parker Waichman LLP, a national law firm dedicated to protecting the rights of victims injured by defective drugs and medical devices, is commenting on recent research concerning power morcellators, which have come under increased scrutiny due their risk of spreading hidden, or undetectable, cancers. The two studies were both published in February 2015, in the journals, JAMA Oncology and Obstetrics & Gynecology.
Meanwhile, in November 2014, the U.S. Food and Drug Administration (FDA) warned against using power morcellators for hysterectomy or myomectomy for uterine fibroids because the devices may spread hidden cancerous tissue, particularly uterine sarcomas. Morcellators are used during minimally invasive surgeries; the tools cut up tissue into smaller pieces so they can be more easily removed through small incisions, according to the agency..
Parker Waichman is discussing ways in which to prove that morcellator manufacturers did not thoroughly study the devices and issue warnings regarding the increased risk of spreading a so-called "ghost cancer" when these devices are used in specific minimally invasive gynecologic procedures. The firm continues to monitor research on this adverse reaction, work with women and their families who have suffered from the spread of a cancer following morcellator-assisted surgery, and seek recourse with morcellator device makers.
"Thousands of women undergo minimally invasive surgeries for hysterectomy or uterine fibroid removal annually. These women are often unaware that use of power morcellators during their procedures may spread a hidden, aggressive tumor," said Gary Falkowitz, Managing Attorney at Parker Waichman. "Our firm continues to investigate cases in which power morcellators may have spread these deadly cancers."
Recent research may only fuel concerns, according to Parker Waichman. Researchers at the University of Michigan published a study in Obstetrics & Gynecology involving 2,575 women undergoing surgery for presumed fibroids in 2013. The study found that an undetected uterine sarcoma occurred in one out of every 368 women who underwent hysterectomies for fibroids. The use of a morcellator may spread the cancerous tissue, which is typically not detected prior to surgery. Patients should be informed that there exists "the possibility of a poorer prognosis should an unidentified malignancy be morcellated," the authors said.
A study published in JAMA Oncology found that the risk of spreading cancerous tissue via power morcellation increases with age. "Electric power morcellation should be used with caution in older women undergoing myomectomy." the authors wrote. The researchers found that between 2006 and 2012, 7.7 percent of 41,777 myomectomies involved the use of power morcellators.
"These new studies add to a growing body of evidence suggesting that power morcellators should not be used due to a risk of spreading hidden cancers," said Mr. Falkowitz. "As a law firm that actively represents numerous individuals who were injured by allegedly defective medical devices, we want to keep consumers up-to-date about recent news involving morcellators."
Parker Waichman LLP offers free legal consultations to victims of injuries allegedly caused by medical devices, including morcellator devices, and injuries allegedly suffered during fibroid removal. If you or a loved one experienced injuries during a fibroid surgery that might be associated with a morcellator device, please contact the Firm at its Power Morcellator page at yourlawyer.com. Free case evaluations are also available by calling 1 800 LAW INFO (1-800-529-4636).