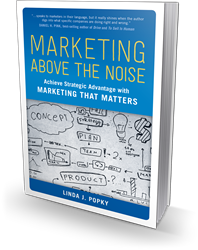 The best marketing organization in the world will not be successful without the support of the larger organization of which it is a part.
Boston, MA (PRWEB) March 24, 2015
Few would argue that the business landscape has drastically changed in the past decade. The prevalence of technology and the rise of social sharing have impacted nearly every business function, and perhaps none more so than marketing. But as shares, followers, and 'likes' have eclipsed traditional marketing measures, one renowned marketer and Silicon Valley veteran argues that many CMOs are focusing on the wrong thing.
In her new book, MARKETING ABOVE THE NOISE: Achieve Strategic Advantage with Marketing that Matters (Bibliomotion; hardcover; March 24, 2015), Linda J. Popky urges marketers to get off the proverbial hamster wheel—focusing less on keeping up with the latest marketing tools and tactics, and more on what matters: long-term strategies that work. With a refreshing back-to-basics approach, Popky outlines eight timeless truths of successful marketing initiatives—what she calls the Dynamic Market Leverage Factors. These factors, she argues, have slipped into the background as marketers fiercely try to stay abreast of new technologies and platforms—often at the expense of their marketing success.
With compelling case studies throughout—from Caribou Coffee to X-Box—Popky illustrates the Dynamic Market Leverage Factors in play. Further, she carefully explores how marketing today intersects with product development, customer service, sales, and information technology and offers insight into how organizations can work cohesively to increase the likelihood of business success.
"The best marketing organization in the world will not be successful without the support of the larger business or organization of which it is a part," writes Popky, who has spent her career in marketing, advising clients like Cisco Systems, NetApp, and PayPal on everything from branding and strategy to market analysis. "One way to know you've developed a respected marketing organization," she continues, "is when the marketing group is included in strategic business discussions and offered a proper seat at the table."
To that end, she introduces Five Momentum Factors that further drive marketing success: organizational commitment, resources, people, technology, and environment. Without the right momentum from within an organization, marketing initiatives often get stuck in an internal rut and never see the light of day. These momentum factors, she argues, provide the extra oomph that can bring marketing effectiveness to the next level.
MARKETING ABOVE THE NOISE is a welcome—and needed—change of pace. Popky's contrarian approach to marketing and timeless framework allow business leaders and marketers to focus on growing revenue and profit, instead of 'likes' and follows.
Linda J. Popky is the president of Leverage2Market Associates, a Redwood Shores, CA-based strategic marketing company that helps transform organizations through powerful marketing performance. Her clients range from small businesses and consultants to mid-sized companies and large, Fortune 500 enterprises.
In 2009, Popky was named one of the top women of influence in Silicon Valley and inducted into the Million Dollar Consultant® Hall of Fame. She is the first marketing expert worldwide certified to offer the Private Roster™ Mentoring Program for consultants and entrepreneurs, and the first licensee of Alan Weiss's workshops and seminars. Popky is the past president of Women in Consulting, and she served as VP of marketing for the Northern California chapter of the Business Marketing Association. She is a member of the Society for the Advancement of Consulting and Watermark, the organization for exceptional executive women who have made their mark, where she serves on the Strategic Development Board.
Popky has served as program advisor for the Integrated Marketing Program at San Francisco State University's College of Extended Learning, and she is a member of the Advisory Board of University of California Santa Cruz Extension in Silicon Valley.
Popky is the author of Marketing Above the Noise. Her previous books include Marketing Your Career and Promoting Your Non-Profit. A classically trained pianist, Popky recently released Night Songs, a CD of classical piano music.
PRAISE FOR MARKETING ABOVE THE NOISE
"Because of the near infinite amount of information available on the web, buyers now have more information than sellers. It is a new world requiring smart marketers to educate and inform instead of interrupt and sell. Linda Popky shares strategies and tactics that work in this new environment and how to implement them to grow your business."
— David Meerman Scott, best-selling author of ten books including The New Rules of Marketing and PR
"It may seem counterintuitive in our new social and digital world, but many aspects of marketing are timeless and still relevant today. In this book, Linda Popky updates these timeless principles with the latest technologies available to marketers. Read this book to ensure your marketing isn't static in the digital era."
— Charlene Li, CEO of Altimeter Group, author of New York Times best-seller Open Leadership and co-author of Groundswell
"Marketing Above the Noise is a tour de force that will help anybody interested in creating marketing dominance to do so in a customer-oriented, highly profitable manner."
— Alan Weiss, best-selling author of Million Dollar Consulting
"Marketing Above the Noise is required reading for anyone who wants to be more effective at using marketing to reinvent and grow their business. Linda Popky shows us how to take the most essential elements of traditional marketing and apply them in the fast-changing world of social business."
— Dorie Clark, author of Reinventing You and adjunct professor, Duke University Fuqua School of Business
"Thought provoking and to the point. This book cuts above the noise in the marketing world today."
— Adrian C. Ott, award-winning author and CEO, The 24-Hour Customer and Exponential Influence®
"Want to stand out in today's crowded marketplace? Looking for easy-to-implement marketing strategies that are proven to be effective? In Marketing Above the Noise, Linda Popky shares the insider secrets to building buzz that make her Silicon Valley's go-to marketing guru. Get your copy today!"
— Denise Brosseau, CEO, Thought Leadership Lab and author of Ready to Be a Thought Leader?
Bibliomotion is a book publishing house designed for the new publishing landscape. While many publishers work to retrofit old processes for new realities, Bibliomotion was founded by book-industry veterans who believe the best approach is a fresh one – one that focuses on empowering authors and serving readers above all else. Moving away from the top-down model that has dominated the publishing process for years, we give each member of the team – including the author – a seat at the table from the very beginning and in doing so, work side-by-side to launch and sell the best content possible, making it available in a variety of forms.