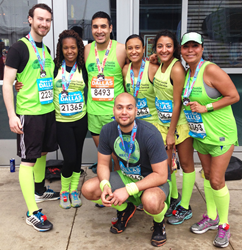 "I was proud and excited to be running on behalf of ATRS this weekend. I loved carrying the message about the passion they have for making the world a better place by recycling and helping out local charities in the process." John Melendez, ATRS Runner
Dallas, TX (PRWEB) March 23, 2015
As marathoners at the Humana Rock 'n' Roll Dallas Half Marathon competed for gold this past weekend, another kind of race inspired widespread participation amongst the runners.
Participants in the Half Marathon & Relay Races took to the hilly course through downtown Dallas with the challenge to ROCK RUN RECYCLE as they shed warmup layers for recycling on behalf of local charities. The campaign now in its third year, sponsored by American Textile Recycling Service (ATRS), inspired more runners to join in and nearly doubled the items collected from 2014.
Seven official ATRS sponsored runners were on the course in signature fairy gear to help spread the message of a cleaner, greener race. Volunteers decked in bold CLOTHING & SHOE RECYCLING tees cleared the start line and course of all dropped textiles, diverting these materials from the Dallas landfill for reuse, redistribution and recycling.
"I was proud and excited to be running on behalf of ATRS this weekend," says John Melendez, a Dallas native and sponsored runner, "I loved carrying the message about making the world a better place by recycling and helping out local charities in the process." His finish time as a highlight sponsored runner was 2:05:35 in the half marathon.
The result? Approximately 15,000 pounds of recyclable materials were collected - a new record for the Dallas race. Clothing, gloves, hats and other warmup gear totaled 1,800 lbs at this year's race. Children's Miracle Network will receive funding for every pound donated at the race expo, course and finish line. An additional 1,200 pounds of perishable goods were collected from the finish line and donated to No Turning Back Ministries. Nearly 12,000 pounds of non-perishable good will be split to assist local operations for ATRS charitable partners Children's Miracle Network and Mothers Against Drunk Driving.
The ATRS green team was also on hand at the Health & Fitness Expo for a weekend of fun, education and green-minded activities for the whole family. Thousands of attendees came through to play the Recycler Toss Game, win a toy and learn about the secret double life of textiles.
ATRS wishes to extend special thanks to all the runners, participants and spectators that supported the ROCK RUN RECYCLE campaign and creating a cleaner, greener race at The Humana Rock 'n' Roll Half Marathon. Hitting a new record for recyclable pounds collected at this race means warmup gear, clothes, towels and any other valuable textile items are being diverted from Dallas landfill for reuse, redistribution and recycling while benefitting local charities. It's a win win win for participants, organizers and the city!
About American Textile Recycling Service (ATRS)
The nation's fastest growing textile recycler is an official recycling partner of Rock 'n' Roll Marathon Series. Its socially responsible business model provides free textile recycling solutions for the public, job stimulation worldwide and much-needed funding for worthy local charities. Easy, convenient ATRS Recyclers are available throughout Dallas and Ft. Worth, Texas, Arizona, Texas, Colorado, Florida, Michigan, Tennessee, Atlanta, Oklahoma, and Southern California. ATRS is committed to keeping textile waste from local landfills and promoting a greener tomorrow. For press inquires contact pr (at) atrsonline (dot)com.