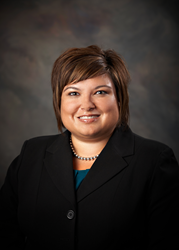 Financial advisors attending the 6th Annual Financial Advisor Retirement Symposium can learn more about the complexities of "Social Security Decisions" on Thursday, April 2, featuring Allsup healthcare expert Tricia Blazier.
Belleville, Illinois (PRWEB) March 24, 2015
Allsup healthcare expert Tricia Blazier will join financial advisors from across the U.S. for the 6th Annual Financial Advisor Retirement Symposium on Wednesday and Thursday, April 1-2, at The Venetian Resort in Las Vegas.
The two-day program will highlight industry experts' insights on trends in financial advising for pre-retirees and retirees, including income and investing for retirement, long-term care and decisions about Social Security benefits and healthcare coverage options. The April 2 session, "Social Security Decisions," will review the complexities involved with timing Social Security retirement benefits and the impact on near- and long-term financial objectives so that financial advisors can help manage their clients' resources and assets into their 60s and beyond.
Tricia Blazier, personal health and financial planning director for Allsup, will participate on the panel discussion about Social Security decisions. Blazier, J.D., applies her expertise and knowledge of healthcare issues and personal finances to help financial advisors and their clients as they navigate complex government programs.
She oversees services that include the Allsup Medicare Advisor®, Medicare plan selection service; Allsup Benefits CoordinationSM, healthcare benefits consultation service; Medicare Coordination Services® and the Allsup Life Planning ServiceSM. Her experience covers a range of healthcare issues such as clients' transitions between group health plans and health benefits in the Health Insurance Marketplace and Medicare programs.
Click here to register for the conference, or visit the Financial Advisor website, http://www.fa-mag.com, and click "Conferences" to find the retirement symposium. Sessions have been accepted for continuing education credits (CFP and IMCA). Registration begins at $99. For more information, call Linda Dunn, conference director, Financial Advisor, (732) 450-8866, ext. 36.
About Financial Advisor
Financial Advisor is produced exclusively for independent advisors by one of the most experienced and respected publishing teams in the industry. Reaching 105,000 independent broker-dealer-affiliated advisors and registered investment advisors, FA offers readers unparalleled ideas and strategies to help them better invest for their affluent clients and manage their practices. Financial Advisor and Private Wealth magazines host a variety of one- and two-day conferences that bring together key industry experts and prominent advisors to share their insights and strategies.
About Allsup
Allsup is a nationwide provider of Social Security disability, veterans disability appeal, exchange plan and Medicare services for individuals, employers and insurance carriers. Allsup professionals deliver specialized services supporting people with disabilities and seniors so they may lead lives that are as financially secure and as healthy as possible. Founded in 1984, the company is based in Belleville, Illinois, near St. Louis. For more information, go to http://www.Allsup.com.
# # #