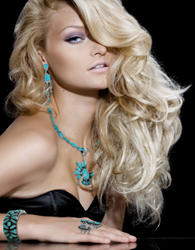 A Native American artisan made piece of turquoise jewelry is completely unique
Phoenix, AZ (PRWEB) March 23, 2015
Quality turquoise jewelry is becoming harder to find, says TurquoiseJewelry.com. The reason? The simple depletion of authentic turquoise stones in the United States.
Most recently in 2013, the Sleeping Beauty turquoise mine closed, with no indication of re-opening. Owner Monty Nichols cited to reporters that the focus of their mining in the area had shifted away from turquoise to copper.
At the peak of turquoise stone popularity in the 1970s, there were as many as 180 mines throughout the southwest that provided the beautiful mineral. Since then, the majority of the mines have closed due to tight government mining restrictions and the scarcity of turquoise in many mines. Today, less than 10 turquoise mineral mines remain open, reports AZCentral.
The mined turquoise is untreated, which means each piece of turquoise is truly one of a kind. Authentic turquoise jewelry made by Native American artisans is desirable because it embodies a sense of unique beauty and makes a bold fashion statement. What does this mean for jewelry lovers? Authentic turquoise is quickly becoming a commodity that isn't so readily available.
"Less authentic turquoise means less one-of-a-kind jewelry, which leads to jewelry lovers having a difficult time finding that perfect piece," said TurquoiseJewelry.com spokesperson Jack Burch. Burch goes on to add, "A Native American artisan made piece of turquoise jewelry is completely unique, and with the shortage of turquoise, we're seeing less and less of this jewelry."
He continues with noting that this is leading to the jewelry becoming a rare high-end fashion piece.
"I'm not suggesting people begin hoarding the stone," said Burch. "However if you are a lover of Native American turquoise jewelry, now may be the time to evaluate your collection as the amount of turquoise on the market decreases. Especially since spring and summer are arriving, turquoise goes with any outfit."
He goes on to say that the declining presence of turquoise affects not just the fashion world, but Native American artisans as well.
TurquoiseJewelry.com supports Native American jewelry artists through creating an outlet for buyers to shop and purchase cultural and beautiful turquoise and other gem accessories. To view turquoise accessories and more, visit TurquoiseJewelry.com.