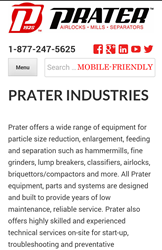 The new website and brand update are an outward reflection of the company's internal focus on continuous improvement.
Bolingbrook, Illinois (PRWEB) March 25, 2015
Prater Industries, a global leader in particle processing equipment (http://www.praterindustries.com), announced that it has officially launched a new website and corporate identity. According to Pete Hinzy, Prater Vice President and General Manager, "the new website and brand update are an outward reflection of the company's internal focus on continuous improvement."
Prater's emphasis is to maximize operational flow, streamline production, and consolidate Prater's distinct market advantages into an integrated brand and progressive identity. As an integral part of promoting that new brand identity, Prater's website offers a modern, mobile-friendly design with easy-to-navigate functionality, and a content-rich site experience.
Product pages offer photos, videos, tech specs, and case studies highlighting Prater's technical expertise for a variety of processing applications. A special quoting feature is being developed for the second phase of website development, to make it easier for potential customers to anticipate their equipment needs and research the effectiveness of upgrading their process.
"An intuitive and user-friendly website will never replace the direct, responsiveness of our great sales and service team, but making more information available and enhancing the customer's experience is the goal of the new website," Pete said.
The new Prater website also provides social media integration and direct links to Prater's LinkedIn, Facebook, Twitter, Google +, and YouTube pages, where company and product updates appear on a regular basis.
Prater is supported by a network of technical sales representatives who ensure that our equipment is designed and manufactured to meet our customers' needs. Prater's sales representatives offer specialized knowledge and experience to our many customers throughout North America. With extensive in-class training and several weeks of field training, our representatives offer technical expertise unsurpassed in our industry. As skilled problem solvers, they will work diligently to discover the root cause of your particular application needs. With a true understanding of your long- and short-term facility goals, they will work with you to design a customized solution around your specific processing requirements.