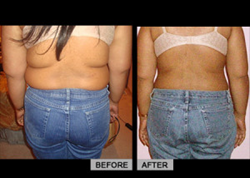 Free one-month supply of Diet Doc's powerful Appetite Zap helps new patients burn fat 4X faster than other diet products.
Los Angeles, CA (PRWEB) March 24, 2015
While most dieters begin their weight loss journey with the best intentions, many quickly become discouraged, finding the temptation to reach for high calorie, high carbohydrate foods too powerful to resist. Many lose a few pounds and suddenly weight loss stalls. The excess fat refuses to budge from its hiding place in the belly, hips, thighs, underarms and buttocks and the dieter simply gives up. Diet Doc understands and makes it their mission to see their patients through from the very beginning until well after the last ounce of excess fat has melted. The company continues to work to improve the dieting experience, eradicate the powerful urges and eliminate hunger, cravings and loss of energy during dieting with safe and effective prescription diet products that enable their patients to focus fully on their weight loss success.
After an online consultation with one of Diet Doc's highly trained fast weight loss doctors, qualified patients may choose to enhance their nutritionist-designed meal and snack plans with pure, prescription hormone diet treatments, specially formulated diet pills and Appetite Zap to burn fat 4X faster. And now, for a limited time, new Diet Doc patients can receive a complementary one-month supply of Appetite Zap simply by joining the thousands of patients throughout the country who have turned to Diet Doc and finally found weight loss success.
Appetite Zap fits perfectly with their diet plans because they help patients quickly realize noticeable weight loss, eliminate dieting side effects and enable patients to focus entirely on their weight loss success. In addition to its ability to burn fat 4X faster, Appetite Zap:

Increases energy;
Improves immune system;
Increases libido and sex drive;
Improves mood;
Relieves menstrual cramps, hot flashes, anxiety, mood swings and depression;
Increases memory and mental acuity;
Creates an overall feeling of wellbeing.
The professionals at Diet Doc monitor each patient's progress, attitude and comfort level throughout with scheduled weekly checkup calls and are available via phone or email to answer questions, offer suggestions or simply to lend their support throughout the weight loss process. Dedicated to helping people in any part of the country improve their health and enjoy long term weight loss success, Diet Doc designs diet plans for those of all shapes, sizes, ages and genders and looks forward to celebrating each patient's weight loss success.
Call today or visit http://www.dietdoc.com to join the thousands who are already enjoying a more active, healthier and richer life and receive a complementary 30-day supply of Appetite Zap to safely burn fat 4X faster than other diet products.
About the Company:
Diet Doc Weight Loss is the nation's leader in medical, weight loss offering a full line of prescription medication, doctor, nurse and nutritional coaching support. For over a decade, Diet Doc has produced a sophisticated, doctor designed weight loss program that addresses each individual specific health need to promote fast, safe and long term weight loss.
Diet Doc Contact Information:
Providing care across the USA
Headquarters:
San Diego, CA
(888) 934-4451
Info@DietDoc.info
http://www.dietdoc.com
Twitter: https://twitter.com/DietDocMedical
Facebook: DietDocMedicalWeightLoss
Linkedin: https://www.linkedin.com/company/diet-doc-weight-loss?trk=biz-brand-tree-co-logo