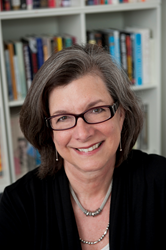 All over the world, women are kept out of the money system by customs and laws that prohibit their having bank accounts, owning wealth, or getting credit
Oxford, United Kingdom (PRWEB UK) 23 March 2015
A call to action to world leaders for financial inclusion for women worldwide
Professor Linda Scott, Saïd Business School, University of Oxford, to hand over Call to Action to United Nations on women's economic empowerment
Saïd Business School, University of Oxford
Professor Linda Scott, DP World Chair for Entrepreneurship and Innovation at Saïd Business School, University of Oxford, will deliver a Call to Action to the UN on Wednesday March 25th, which asks world leaders to make financial inclusion for women a global imperative and to include it in the post-2015 Development Framework.
The Call to Action will be handed over at the 2nd Annual Power of Collaboration Global Summit at the United Nations Headquarters in New York in a ceremony orchestrated by Amir Dossal, Chairman of Global Partnerships Forum.
Professor Scott will also deliver a keynote speech at the summit, "The Economics of Exclusion," and chair a panel discussion on "Technologies of Inclusion".
Professor Scott said: "Though we think of the financial system as an objective set of decision rules, it is in fact profoundly gender biased. All over the world, women are kept out of the money system by customs and laws that prohibit their having bank accounts, owning wealth, or getting credit. Even in developed nations, the financial sector is one of the most hostile workplaces for women, a fact that has negative effects on the advancement of women to private sector leadership and unpleasant implications for female entrepreneurs' access to capital. The elite homogeneity of the financial sector has already contributed to a worldwide recession; making this core area of the economy more inclusive is essential to the stability and prosperity of global society."
The Call to Action was launched in May 2014 at the annual Oxford Forum for Women in the Global Economy—more popularly known as "Power Shift" - which brings together 200 leaders from across sectors each year to think and build partnerships around empowering women economically. It has now been signed by leading academics, investors, financial institutions, corporations, foundations, advisors, and entrepreneurs around the world. The call says:
We, the undersigned, call on all Member States of the United Nations in the articulation of the Post-2015 Development Framework, and the Sustainable Development Goals (SDGs), to emphasize women's economic empowerment, particularly with regard to increasing women's access to financial services, improving their financial capability, and increasing their access to skilled jobs including leadership positions in the financial sector.
This important document is intended to emphasise the centrality of women's economic empowerment to global development, including the fight against poverty, the reduction of violence, and the well-being of children.
Professor Scott remarks: "The Power Shift community, which meets annually to work together on ways to better include women in the world economy, feels strongly that economic empowerment of women should be at the top of the priority list for future development goals. They have been joined in this Call to Action by women and men all over the world who understand how crippling gender inequality really is. We are pleased to have this opportunity to carry our Call to Action to the United Nations."
Priorities that find a place on the UN's formal list of development goals receive sustained attention from governments, NGOs, and international agencies, as well as money for programmes and reforms. Importantly, progress against the goals are monitored and measured for reporting back to the United Nations.
For more information, to attend the Global Summit event or to arrange an interview with Professor Linda Scott, please contact:
Josie Powell, Press Officer, Saïd Business School
Mobile: +44 (0)7711 387251; Tel: +44 (0)1865 288403
Email: josie.powell(at)sbs.ox.ac.uk or pressoffice(at)sbs.ox.ac.uk
Kate Richards, PR Coordinator, Saïd Business School
Mobile: +44 (0)7711 000521; Tel: +44 (0)1865 288879
Email: Kate.richards(at)sbs.ox.ac.uk or pressoffice(at)sbs.ox.ac.uk
Notes to editors
1 About Power Shift
http://www.sbs.ox.ac.uk/community/our-people/women/power-shift/power-shift-2014-women-and-finance
2 About Linda Scott
Linda Scott is recognised as a leading thinker and activist in the global movement on behalf of economic empowerment for women. She maintains a blog, called "The Double X Economy", which has a significant popular following. Recently, she was selected as one of the top 50 world thinkers for Prospect magazine's 2015 list.
@ProfLindaScott
3 About Women at Saїd Business School
http://www.sbs.ox.ac.uk/community/our-people/women
4 About Saïd Business School
Saïd Business School at the University of Oxford blends the best of new and old. We are a vibrant and innovative business school, but yet deeply embedded in an 800 year old world-class university. We create programmes and ideas that have global impact. We educate people for successful business careers, and as a community seek to tackle world-scale problems. We deliver cutting-edge programmes and ground-breaking research that transform individuals, organisations, business practice, and society. We seek to be a world-class business school community, embedded in a world-class University, tackling world-scale problems.
In the Financial Times European Business School ranking (Dec 2014) Saïd is ranked 10th. It is ranked 14th worldwide in the FT's combined ranking of Executive Education programmes (May 2014) and 22nd in the world in the FT ranking of MBA programmes (Jan 2015). The MBA is ranked 7th in Businessweek's full time MBA ranking outside the USA (Nov 2014) and is ranked 5th among the top non-US Business Schools by Forbes magazine (Sep 2013). The Executive MBA is ranked 21st worldwide in the FT's ranking of EMBAs (Oct 2014). The Oxford MSc in Financial Economics is ranked 7th in the world in the FT ranking of Masters in Finance programmes (Jun 2014). In the UK university league tables it is ranked first of all UK universities for undergraduate business and management in The Guardian (Jun 2014) and has ranked first in ten of the last eleven years in The Times (Sept 2014). For more information, see http://www.sbs.ox.ac.uk/
ENDS