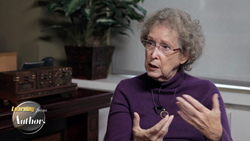 The educational system needs to be back in the hands of educators so that schools can address providing children with the skills they need to be successful in our current world,
New York, New York (PRWEB) March 25, 2015
Public education needs to be back in the hands of educators and out from under negative politics involved in many school boards and parents who don't respect the teachers or the educational system, according to Janis Fisher Chan, well known trainer and instructional designer, CEO and founder of Write It Well Inc. and the current owner of JFC Consulting. In an interview with Russell Sarder, CEO of NetCom Learning and creator of the popular online learning channel SarderTV, Chan talks about her views on learning, education, being an entrepreneur, success and failure, and the importance of creating a learning organization. Over the years, Janis Chan has provided writing and developmental editing and training services to a wide variety of organizations including publishers, corporations, non profits, government agencies, technology companies and universities.
"Janis Chan has been in the educational field her entire life and she is a wonderful resource that we can all learn from," said Russell Sarder, creator of SarderTV.
"We welcome Janis to SarderTV and invite everyone to watch her video and gain important insights on the learning, being an entrepreneur and how best to utilize training within an organization," said Sarder.
Trained originally in the theater, Janis Chan has been able to combine her love of writing and teaching with her love of acting in a way that utilizes all of her many skills in her current job as a trainer and instructional designer of learning materials. Her experiences and knowledge have made her a sought after trainer in all types of organizations in the United States and in Europe. Chan's extensive experience in the field of education has also given her a voice about problems within the current educational system in the United States in terms of curriculum, teaching methods. Her views, seen by many as controversial, is based on the feeling that education is not viewed with respect in the United States. According to Chan, teachers are disrespected and schools are mired down with the politics that get in the way of learning, fostered by school boards and parents who lack the knowledge to be making decisions about curriculum and learning practices. The educational system needs to be back in the hands of educators so that schools can address providing children with the skills they need to be successful in our current world, states Janis Chan. In the interview, Chan talks about how learning and education needs to be valued in our society in both the educational system and in organizations.
SarderTV offers provoking, educational and candid interviews so that new entrepreneurs and aspiring business people can learn from them. The database is part of the international Learning Movement created by Russell Sarder to help spread knowledge and inspire a passion in lifelong learning. Operating on the premise that motivated individuals can learn from the experience, the success and the mistakes of others, SarderTV provides a unique opportunity to see and hear influential personalities talk about the subjects that matter to them. Some of the past interviewees have included Ira Neimark, former CEO of Bergdorf Goodman, Susan Davis, CEO of BRAC USA, and Dan Hoffman, President and CEO of M5 Networks.
Don't miss this thought provoking interview with Janis Chan at SarderTV.
SarderTV seeking additional leaders for interviews
SarderTV is also seeking leaders to interview and is targeting leaders from Fortune 500 companies, and exceptional public figures like Bill Clinton, Oprah Winfrey, Jim Collins, Bill Gates, Warren Buffet and many more. According to the National Venture Capital Association, more than 30 percent to $600 million this year has been invested in Web-based education. For investors seeking an opportunity to participate in a multimillion dollar idea SarderTV presents an excellent investment and is actively seeking investors. Several investors have already expressed an interest in this innovative idea. Investors interested in becoming a part of SarderTV are invited to get in touch as well, contact us at russellsarder(at)netcomlearning(dot)com.
About Sarder TV
SarderTV is a learning channel that contains a series of exclusive educational interview videos from top leaders in their industries, as well as motivational videos encouraging our public to succeed in their personal and professional lives, and many more. Russell Sarder, CEO of Sarder TV, has interviewed a series of leaders, who have shared their experiences and how they were able to achieve their success. Some of the names that Sarder has interviewed are: Ira Neimark, former CEO of Bergdorf Goodman; Russ Edelman, co-author of Nice Guys Can Get the Corner Office, Dan Hoffman, and David Hershfield, SVP Online Technology at RedCats.