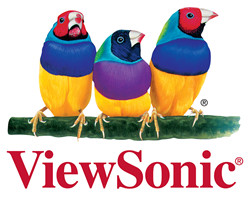 ViewSonic prides itself in having a diversified product portfolio, comprehensive channel program, and being 100% channel focused.
Brea, CA (PRWEB) March 23, 2015
ViewSonic awarded 5-Star rating in CRN's 2015 Partner Program Guide. Annual guide recognizes the best channel partner programs in the market.
ViewSonic Corp., a leading global provider of visual solution products, announces that it has been awarded a 5-Star rating in The Channel Company's CRN 2015 Partner Program Guide. This annual directory is the definitive listing of technology vendors that service solution providers or provide products through the IT channel. The 5-Star Partner Program rating recognizes an elite subset of companies that offer solution providers the best partnering elements in their channel programs.
ViewSonic's award-winning Finch Club™ Partner Program provides a diversified portfolio of assets and tools that help channel partners and solution providers grow their business. ViewSonic supports its resellers with tailored channel focused programs including: special pricing for targeted vertical markets and large projects, promotion allowances, product training webinars, VIP customer support, business development incentives, leads, and extensive sales rewards programs and contests.
To determine 2015 5-Star recipients, The Channel Company's Research team assessed each vendor's application based on investments in program offerings, partner profitability, partner training, education and support, marketing programs and resources, sales support and communication.
"Solution providers have a lot of choices when it comes to selecting vendor partners. Identifying the right vendor, with the right technologies, and the right approach can make all the difference," said Robert Faletra, CEO, The Channel Company. "Our annual Partner Program Guide and 5-Star rating recognizes the best channel programs available in the market today to help solution providers determine which vendors deliver the best partner elements for their individual business goals."
"We're honored that ViewSonic has again been recognized with a 5-Star rating in CRN's Partner Program Guide," said Sally Wang, vice president of product marketing at ViewSonic. "ViewSonic prides itself in having a diversified product portfolio, comprehensive channel program, and being 100% channel focused. To be recognized as one of the elite vendor partner programs in the channel is something we strive for, and this validates our dedicated work."
The 2015 Partner Program Guide will be featured in the April issue of CRN, and online at http://www.CRN.com.
For further news and information about ViewSonic, visit ViewSonic.com and follow on Facebook, YouTube and Twitter.
About ViewSonic
Founded in California in 1987, ViewSonic is a world leading visual solutions provider. As an innovator and visionary, ViewSonic keeps the world connected with a portfolio of professional level visual solutions that enhance the way we compute, collaborate, communicate and connect. Our products include LED monitors, interactive commercial displays, touch displays, projectors, thin client, zero client and smart displays. To find out more about ViewSonic, visit viewsonic.com.
About The Channel Company
The Channel Company, with established brands including CRN, XChange Events, IPED and SharedVue, is the channel community's trusted authority for growth and innovation. For more than three decades, we have leveraged our proven and leading-edge platforms to deliver prescriptive sales and marketing solutions for the technology channel. The Channel Company provides Communication, Recruitment, Engagement, Enablement, Demand Generation and Intelligence services to drive technology partnerships. Learn more at http://www.thechannelcompany.com.
###
This news release contains forward-looking statements that reflect the Company's expectations with regard to future events. Actual events could differ significantly from those anticipated in this document. Trademark footnote: All corporate names and trademarks are the property of their respective companies.
Media Contacts:
Joey Lee
JSLComm for ViewSonic Corp.
T: 310-592-1712
E: joey(at)jslcomm(dot)com
Jasmine Geider
ViewSonic Corp.
T: 909-444-8869
E: Jasmine(dot)Geider(at)viewsonic(dot)com
Marc Courchesne
The Channel Company
T: 508-416-1110
E: mcourchesne(at)thechannelcompany(dot)com