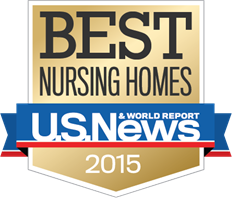 Louisville, KY (PRWEB) March 24, 2015
Signature HealthCARE is proud to announce that 21 of its nursing and rehabilitation centers in six states were named to U.S. News & World Report's Best Nursing Homes 2015 list.
The news magazine and website each year publishes a list of the top nursing homes in the United States, out of nearly 16,000 nursing homes nationwide, based on data from the Centers for Medicare & Medicaid Services (CMS). The list is designed to help users find a home with a strong track record of quality care.
A majority of people age 65 or older will require some type of long-term care services during their lifetime, and more than 40 percent will need a period of care in a nursing home, according to CMS. As an industry, long-term care is also a major economic driver, directly responsible for generating 3.1 million jobs and an estimated $183.5 billion in economic activity according to the American Health Care Association.
CMS gives nursing homes a star rating based on key metrics including staffing, health inspections and quality measures. Nearly a fifth of Signature's centers now have a five-star CMS rating, and nearly half have a four-star or five-star CMS rating. Signature has a record of acquiring challenged health care facilities and improving their level of care, and in the process, improving their star rating.
"We're very proud to have more than 20 of our homes appear on this year's U.S. News & World Report 'Best Nursing Homes' list," said Signature President and CEO Joe Steier. "We believe our caregivers are among the best anywhere, and we will continue working tirelessly to live up to our place on this list by giving our residents and families the compassion, love and care they deserve."
To view all Signature centers named to the U.S. News & World Report listing, visit the SHC Newsroom. For more on Signature HealthCARE, visit LTCRevolution.com.