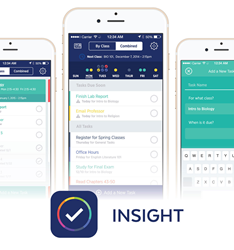 Insight is ground-breaking, in that USD students will have a mobile app to manage their academic, social and personal lives all in one place.
San Diego, CA (PRWEB) March 24, 2015
March 3, 2015, the University of San Diego (USD) launched Insight, an innovative and intelligent "to-do" app designed specifically for today's multi-tasking millennials to sync their academic and personal lives. The app was custom-built to achieve two main goals: help students be more organized and to provide intelligent feedback. With Insight, students can now manage their personal tasks, class assignments and extracurricular activities all in one place. What sets Insight apart from other "to-do" apps is its ability to use all the information entered by the student to generate trends, patterns and other important correlations for students. Such feedback can influence decisions students make about their majors and ultimately their careers.
In terms of organization, Insight was developed with the mindset that a student's life is unique from most other phases of life. Insight helps students manage their demanding schedules and obligations so that they can feel confident and know that they have their responsibilities under control. For example, since Insight syncs automatically with USD class schedules, five minutes after a student finishes a class, he or she will receive a push notification to input any task for the class, helping the student stay organized.
"The inspiration behind Insight was to be able to offer an easy tool for students to manage and prioritize their obligations, assignments and to-dos right on their smartphone as the need for the task occurs, said Avi Badwal, senior director of enterprise technologies who led the development of the Insight App. "Real-time organization and management are what set this app apart."
Other organizational features of Insight are its color-coding aspect and its task visualization. As a student enters the task, she or he has the ability to color-code it for priority and see all the tasks and class schedule as color-coded dots in a cohesive glance. This vantage point allows for a quick and easy look at a student's to-do list, allocated time commitment and upcoming due dates. Chris Wessells, vice provost and chief information officer, said that "multi-tasking millennial students are interested in effective organizational and time management skills that help them succeed in their academic careers. Insight is an innovative tool that will help enhance the USD student experience."
Insight also offers, for the first time in a higher education setting, the ability for students to use the information they enter to generate patterns, trends and correlations. This intelligent feedback aspect will, over time, allow a student to see correlations between the tasks entered, tasks completed, and their final grades. Insight is virtually akin to a student's personal class assistant.
"One of our goals with Insight is to enhance the USD student experience through mobile technology. Insight will help students connect and incorporate different aspects of their lives for a balanced experience."
Insight is built on the iOS platform. The App auto-creates categories based on a student's class schedule, incorporates a smart class planner, uses color-coded reminders, push notifications, badge notifications, task alerts and also has the ability to correlate a student's efforts with interests and grades.
"A fundamental objective is to make a student's life easier, and ultimately help them achieve all around success while here at USD, as well as in the future," adds Badwal.
During beta testing, more than 400 students signed up for Insight. More than 70 percent of beta testers reported using the app multiple times a day to manage all of their classes, and specifically liked the alerts and reminders of when tasks are due. Approximately 80 percent reported the app was "extremely useful."
The Insight development team is already underway with the creation of new features.
"The next releases will include a time-tracking feature, an emotion-tracking feature as well as an expansion of the synchronization feature," comments Badwal. "Ultimately, we'd like to make it easier for students to analyze their past schedules to determine what they are spending most of their time and energy on, and how this might suggest a path for their future. Our hope is that the more in sync their academic, social, and personal lives are, the more successful our students will be because they will be able to use the feedback generated by Insight to make decisions."
The fact that the current generation of students is tethered to mobile technology, the creation of Insight was the perfect way to help students naturally get organized with their favorite tool: their smartphone.
"In the future, we expect Insight to allow students to share tasks and opportunities with each other, which will help build an even stronger community at USD," said Wessells.
Andrew Allen, vice president and provost added that, "Insight is ground-breaking, in that USD students will have a mobile app to manage their academic, social and personal lives all in one place. The power of seeing those trends across semesters will enable not only students to be more in control of their time and their destiny, but also educators to help connect and serve each student in a more personalized way."
About the University of San Diego
The University of San Diego is a Catholic institution of higher learning committed to teaching, the liberal arts, the formation of values and the creation of ethical leaders. Chartered in 1949, the school enrolls approximately 8,300 undergraduate and graduate full-time equivalent students. The University of San Diego has a long history of public service and is recognized as a Changemaker Campus by Ashoka, the global association of the world's leading social entrepreneurs. The university's eight academic divisions include the College of Arts and Sciences, The School of Business Administration, The Shiley-Marcos School of Engineering, The School of Law, The School of Leadership and Education Sciences, the Hahn School of Nursing and Health Sciences, The Joan B. Kroc School of Peace Studies, and the Division of Professional and Continuing Education. For more information go to http://www.sandiego.edu.
Press Release Contact:
Media Contact: Pamela Gray Payton, pgray(at)sandiego(dot)edu 619-260-4681
Main Contact: Avi Badwal, Sr. Director of Enterprise Technologies, University of San Diego abadwal(at)sandiego(dot)edu