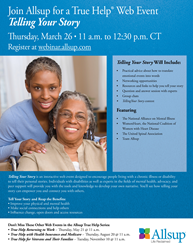 "Each day of March, we are asking people to share with TAN, or post on Facebook and Twitter, one thing that your tremor makes it more difficult to do."
Belleville, Ill. (PRWEB) March 23, 2015
Allsup, a nationwide Social Security Disability Insurance (SSDI) representation company and Tremor Action Network (TAN), are encouraging individuals living with essential tremor to share their stories during Essential Tremor Month in March.
Using the hashtag #MARCH2015_4ET, TAN invites anyone living with essential tremor to participate in the ET challenge.
"Each day of March, we are asking people to share with TAN, or post on Facebook and Twitter, one thing that your tremor makes it more difficult to do," said TAN board member Kathleen Welker.
According to Welker, essential tremor is the nation's top neurological condition, affecting approximately 10 million Americans.
"Essential tremor interferes with a person's ability to perform daily activities others take for granted, such as grooming and writing," said Welker. "In five percent or more of cases, it is totally disabling."
In addition to participating in the ET challenge, the ET community is invited to the Web event, "Telling Your Story," on Thursday, March 26, from 11 a.m. to 12:30 p.m. (CST). Designed to empower individuals with disabilities, "Telling Your Story" will explain how translating emotional events into words can positively impact physical and mental health, relationships and even financial well-being. Register for the event at Webinar.Allsup.com.
Details on how to enter the "Tell Your Story" contest to win a $250 gift card will be shared during the live event.
"Telling Your Story" will provide participants with the knowledge and tools to develop their own narratives to reach various audiences, including friends and family, healthcare providers, social service agencies, insurance carriers, peers, media representatives and policymakers.
Register for "Telling Your Story" at Webinar.Allsup.com.
Additional True Help® Web events are planned for the following dates:

True Help for Returning to Work with SSDI, May 21
True Help with Health Insurance and Medicare, August 20
True Help for Veterans and Their Families, date to be determined
For information on SSDI eligibility, visit Expert.Allsup.com or call (888) 841-2126.
ABOUT TREMOR ACTION NETWORK
Tremor Action Network (TAN) is a 501(c)(3) public benefit organization founded in 2003 by people diagnosed with essential tremor, cervical dystonia and Parkinson's disease. TAN is dedicated to providing boutique services that include one-on-one support and guidance to patients, family members and caregivers. Its mission is to spread awareness of tremor by advocating for a cure through research.
ABOUT ALLSUP
Allsup is a nationwide provider of Social Security disability, veterans disability appeal, exchange plan and Medicare services for individuals, employers and insurance carriers. Allsup professionals deliver specialized services supporting people with disabilities and seniors so they may lead lives that are as financially secure and as healthy as possible. Founded in 1984, the company is based in Belleville, Illinois, near St. Louis. For more information, go to http://www.Allsup.com or visit Allsup on Facebook at http://www.facebook.com/Allsupinc.