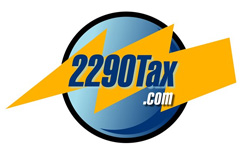 La Verne, CA (PRWEB) March 25, 2015
2290Tax.com has recently been made aware of a new tax scam and have published an article on their site, to advise customers, truck drivers, and website visitors of what to be aware of. The article can be found at http://www.2290tax.com/blog/scam-alert/.
2290Tax.com features a rich knowledge base of common tax scam schemes on their website. The articles allow users to research the ways scammers try to steal personal information through identity theft. Articles address many of the scams included on the recently released IRS "Dirty Dozen" list of schemes including phone scams, phishing, identity theft, return preparer fraud, inflated refund claims, and fake charity schemes. Learning about these frauds helps users better protect themselves from becoming victims.
In addition, 2290Tax.com outlines the behaviors of trustworthy vendors and tax preparers. Articles advising on the questions tax payers should be asking those they trust with their information, as well as how these professionals should be answering those questions, help create educated and informed tax payers.
This year's "Dirty Dozen" list is topped by a "phishing" email threat. The Email arrives and asks users to follow a link to the IRS's e-Services division where the user is then asked to update their information. The email is not generated by e-Services and is intended as a way to gather the nicknames and passwords of e-Services users.
2290Tax.com reminds all users to play it safe this tax season. Remember that things that seem too good to be true usually are, and that all unsolicited Emails appearing to be from the IRS, or any other agency, asking for personal information should not be trusted. DO NOT follow the links they provide. The IRS asks that these emails be promptly reported to phishing@irs.gov.
About 2290Tax.com
2290Tax.com is a family-owned, California-based company that has served the trucking industry for over 80 years. During that time, the company has progressed from helping truckers purchase and register trucks to assisting truckers in correctly preparing and filing complex 2290 tax forms. 2290Tax.com offers customers convenience with services that streamline the tax return and payment process, such as online recordkeeping and e-filing; the company also ensures that customers receive all of the support that they need through online materials and live help from real people on the phone. To learn more about 2290Tax.com, please visit http://www.2290tax.com.