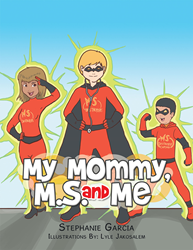 I wanted to help my sons understand me, so I analyzed the disease through a child's viewpoint
NEW YORK (PRWEB) March 25, 2015
More than 2.3 million people worldwide are affected by multiple sclerosis, according to the National Multiple Sclerosis Society. Because of the complexity of the disease, many people struggle to describe its effects, in particular to children.
Author and life coach Stephanie Garcia has had multiple sclerosis for the past 10 years. As a mother of two sons, one of whom is autistic, Garcia quickly recognized the importance of initiating conversations about her disease with her children in a clear and approachable manner.
"When I first tried to describe MS to my children, I found it difficult to discuss it without scaring or confusing them," Garcia said. "I figured there were other parents that must be struggling with a similar discussion, and I wanted to help my sons understand me, so I analyzed the disease through a child's viewpoint."
As a result, Garcia wrote a new book, "My Mommy, M.S. and Me," which describes the symptoms associated with multiple sclerosis in a kid-friendly tone, complete with colorful illustrations, superheroes and ninjas.
Told through a child's perspective, the book compares the processes of a human body affected with MS to the inner workings of a gaming system, which provides a fun, educational, relatable and accessible platform for a discussion about MS between parents and children.
Garcia serves as an advocate for acceptance of people with special needs and illnesses, and she donates a portion of her book proceeds to the Multiple Sclerosis Society to assist with the research and education of a disease becoming prevalent in today's society.
For more information, visit bookstore.xlibris.com.
"Mommy, M.S. and Me"
By: Stephanie Garcia
ISBN: 978-1-4990-7835-6
Available in softcover, e-book
Available on Amazon, Barnes & Noble and Xlibris.
About the author
Stephanie Garcia is a life coach, motivational speaker and author and has served in the United States Air Force. She is currently working towards a degree in developmental psychology to better understand children and is planning on writing similar books to help children communicate and understand difficult diseases. Garcia currently lives in New York City with her two sons. For more information regarding her work, visit http://www.creativeminds4life.com.