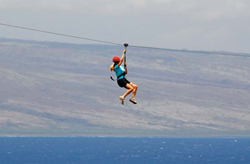 Simply the best! I highly recommend their Maui Zip! My experience was unreal... I credit that to an amazing staff of employees and the breathtaking views I got to experience!
Maui, Hawaii (PRWEB) March 24, 2015
Skyline Eco-Adventures, Hawaii's award-winning zipline company and operator of the first zipline course in the United States, has been awarded, for the 2nd year in a row, the #1 Zipline Company in Hawaii for 2015 by HAWAI'I Magazine's third-annual Best of the Best Reader's Choice Awards.
Featured in the March/April 2015 issue, Hawaii Magazine tallied thousands of reader's votes in 98 categories for Hawaii's "Best of the Best" in hotels and resorts, places to eat and shop, activities, attractions, and more.
Skyline Eco-Adventures earned three No. 1 rankings for 2015:

No. 1 Zipline Company in Hawaii
No. 1 Zipline Course in Hawaii: Skyline Ka'anapali Adventure
No. 1 Land Activity/Adventure Tour Company in Hawaii
Skyline's Award Winning Ka'anapali course features two adventure tour options, including Skyline's Award Winning 8-line tour and Skyline's 9-line Ultimate Zip n' Dip tour, the 1st and only Zip n' Dip tour on Maui.
Last summer and fall, the magazine polled thousands of its mainland U.S., Hawaii and international readers, asking them to share their selections. More than 100,000 picks were tallied and compiled into the magazine's Readers' Choice Awards lists, covering more than 98 categories – from best Hawaii hotels and resorts, beaches, indoor and outdoor activities, to scenic road trips, fashion designers, and coastlines. HAWAI'I Magazine is published bi-monthly, reaching subscribers around the globe with stories that explore the best of Hawaii.
Skyline Eco-Adventures also recently launched a new promotional video showcasing Skyline's Award Winning Kauai, Poipu Hawaii Zipline Tour. Skyline Poipu is an exhilarating 8-line zipline tour that allows guests to soar above the lush valleys with majestic views of the Kauai coast, located high above the Poipu, Kauai resort area.
Skyline Eco-Adventures is a leading commercial zipline company that thrills more than 70,000 guests annually with "knock-your-socks-off" experiences. As the first commercial zipline operator in the United States, Skyline operates three Maui zipline tours at Ka'anapali and Haleakala, in addition to the Akaka Falls Skyline Adventure on Hawaii Island, and the Poipu Skyline Adventure on Kauai. Call (888) TO-GO-ZIP or visit http://www.zipline.com.