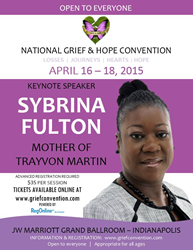 I vow to do what I have to do for Trayvon Martin, I promise I'm going to work hard for your children as well. -- Sybrina Fulton
Indianapolis, IN (PRWEB) March 24, 2015
Trayvon Martin's mother, Sybrina Fulton, will give a keynote speech that's open to the public at the National Grief & Hope Convention on Friday, April 17, 2015, at the JW Marriott Grand Ballroom in Indianapolis.
Fulton lost her 17-year-old son in 2012 when George Zimmerman, a neighborhood watch coordinator in their gated Florida community, shot the unarmed teenager during an altercation. The delay in charging Zimmerman of murder resulted in protests across the nation. In a highly publicized case, Zimmerman was eventually tried and acquitted of the murder charge in 2013.
Fulton and Martin's father founded the Trayvon Martin Foundation in 2012 in part to create awareness of how violent crime impacts the families of victims, and to provide support and advocacy for the families.
Following her keynote in which she'll speak on grief and hope, Fulton will then share more of her own personal journey following the loss of her son, Trayvon Martin, and take questions from the audience. Open to the public, tickets are $35 per session and available online at http://www.griefconvention.com.