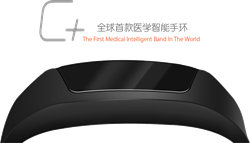 This is the first medical intelligent band in the world.
(PRWEB) March 30, 2015
"iCareTech" was featured on NewsWatch as part of its monthly Tech Report, which takes a look at the latest and coolest technology products and services available to consumers. Scott Steinberg, a NewsWatch special reporter and technology expert, conducted the review and shared with viewers how this is the very first smart band that's dedicated to the medical and health fields.
Wearable technology has been one of the most popular topics of conversation over the past couple of years. Well, at CES, NewsWatch TV came across the first medical intelligent band in the world. It's called C+ medical band and it's a revolutionary product in the health and technology industry.
iCareTech is a new high-tech company that focuses on mobile healthcare and wearable medical devices. They are trying to combine professional technology and mobile applications to make it easier for medical practitioners to monitor health. The C+ band is their first generation product. It can detect oxygen saturation, heart rate and skin temperature.
The C+ band was designed for people who have or potentially have cardiovascular diseases or respiratory diseases, such as COPD or OSA. However, everyone could use C+ band if they would like to know more information about their health.
To learn more about iCareTech's C+ band, visit http://www.icaretek.com today.
About NewsWatch
NewsWatch is a weekly 30-minute consumer oriented television show that airs on the History Channel, FYI Network, and ION Network. NewsWatch regularly features top technology products and services, mobile applications for iOS, Android, and Windows devices, unique and beautiful travel destinations around the world, health and medical tips, and entertainment interviews on the show. NewsWatch airs on the History Channel at 6:00 – 6:30 AM ET/PT and on the FYI Network from 7:00 – 7:30 AM ET.
NewsWatch is located in the greater Washington, DC area and has been on the air for over 25 years. For more information or to watch the most recent episode, visit http://newswatchtv.com/tech-report.html.