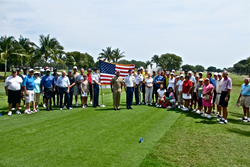 To my knowledge, Delaire is the only club in our area that hosts regular military appreciation golf outings. We see it as our way of showing our gratitude for the gift of freedom. - Trent Squire, GM/COO
Delray Beach, FL (PRWEB) March 24, 2015
As part of its "Delaire Cares" program, Delaire Country Club once again hosted local wounded warriors, military veterans and active duty personnel on Monday, March 23, 2015. This meaningful event included lunch at 11:30 am, use of the golf practice facilities (as well as teaching instruction if desired), and tee off at 1:00 pm.
The "Delaire Cares" program is an initiative through which the Club is committed to supporting various communities, including its members, staff and the local south Florida community, in thoughtful and beneficial ways. The regular military appreciation tournament is Delaire's way to express our appreciation and deep respect to those who have served in the military and in many instances have sustained serious and permanent injuries.
Thirty Delaire members signed up to play with our special guests that day; foursomes consisted of 2 military guests and 2 Delaire members. Additional member volunteers were at each of the 18 holes used that day (Delaire is a 27 hole course) to raise the American flag atop each stanchion.
The highlight of the day was when one of the active duty participants, Sergeant Timothy Pysher, officially reenlisted on the 18th hole; Lieutenant Jonathan Perkins, who also participatied in the military appreciation day at Delaire, performed the reenlisment ceremony.
###
Delaire Country Club, located in Delray Beach, FL, is a private golf community. The Club, which features 27 holes of championship golf, no tee times, 8 tennis courts, a new clubhouse, a state-of-the-art fitness center, gourmet dining, tennis, and ladies' and men's card rooms, recently received the prestigious Distinguished Gold Club of the World award, as determined by the annual Distinguished Clubs of the World award program conducted by BoardRoom magazine, one of the most respected trade publications serving private clubs.