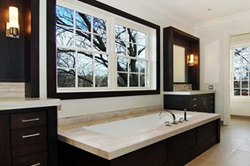 Matching Kitchen and Bathroom RTA Cabinets are great products for Contractors.
Anaheim, CA (PRWEB) April 07, 2015
With strong competition between Kitchen and Bathroom Contractors, trying to compete against bigger companies who offer an all in one service, it is important to try and stand out to gain new customers. Bathroom and Kitchen Contractors know they have to beat their competition on price and style, and that is why more of them are turning to CabinetDIY.
RTA cabinets are designed to provide any property a special and modern look. CabinetDIY offers the widest possible choice of Ready To Assemble (RTA) bathroom and kitchen cabinets at great prices and with fast delivery. Bathroom and Kitchen Contractors can showcase a wide range of designs, woods and colors for their clients to choose from.
The statistics show that RTA cabinet sales have increased by 40%, which is down to more people in America preferring them with the multiple benefits they provide. Kitchen and bathroom contractors can now take advantage of that fact and choose RTA cabinets from CabinetDIY that come with multiple advantages.
These include:

Affordable prices without compromising the design and style. CabinetDIY offers a 20% discount on un-assembled units.
Customers can make any modifications to their chosen bath or kitchen cabinets to meet all of their clients requirements. These products give contractors a chance to renovate a bathroom or kitchen and impress their clients.
Products can be delivered fast for free if the orders are over $1800.
RTA kitchen and bathroom cabinets offered at CabinetDIY are made out of top quality solid wood that ensures sustainability and durability.
The company provides free 3D Kitchen and bathroom designs, along with free wood samples
CabinetDIY provides an experienced team of in-house designers who can help contractors choose the design of the cabinet that will perfectly match their client's kitchen or bathroom.
With the affordable prices and a wide range of designs, CabinetDIY has become an important partner to Bathroom and Kitchen Contractors.
To find out more about the products offered by CabinetDIY, please visit http://www.cabinetdiy.com/.
About CabinetDIY
CabinetDIY is established in 2004 to provide professional interior design services and products throughout North America and beyond. The company's team takes each customer's need, complaint or suggestion seriously, constantly improving their services and products to meet the demands for quality, uniqueness and diversity of the today's generation.