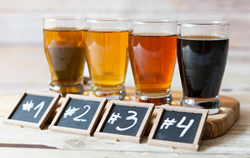 Cheese and beer are synonymous with Wisconsin and Milwaukee. We wanted to create a unique, fun and tasty dinner menu that showcases the best Wisconsin cheese and Wisconsin's growing roster of artisan craft beers
Milwaukee, WI (PRWEB) March 24, 2015
Just in time for National Grilled Cheese Month in April, Melthouse Bistro launches Pints and Bites™, an innovative three course prix fixe dinner menu showcasing two pillars of the Wisconsin culinary scene: Wisconsin cheese and Wisconsin craft beers.
If you're someone who thinks that an ooey-gooey gourmet grilled cheese sandwich is the perfect accompaniment to Wisconsin craft beer, than you will not be disappointed by these delectable pairings. The inaugural Pints and Bites prix fixe dinner menu for four starts with a small plate of savory Wisconsin cheese curds to share, then moves on to four different quarter gourmet grilled cheese sandwiches per person paired with a flight of four Ale Asylum craft beers to sip and enjoy. Dinner concludes with each guest getting a beer float made with Tyranena™ Imperial Oatmeal Coffee Porter and Purple Door™ super-premium vanilla ice cream, and served with made-from-scratch chocolate cream cheese brownie bites. A Pints and Bites dinner starts at $24.00 per person for a group of four, $22.00 per person for a party of eight, and $20.00 per person for a table of twelve. Every six to eight weeks new gourmet grilled cheese sandwiches will be offered on the menu and paired with a featured Wisconsin craft brewery.
"Cheese and beer are synonymous with Wisconsin and Milwaukee. We wanted to create a unique, fun and tasty dinner menu that showcases the best Wisconsin cheese and Wisconsin's growing roster of artisan craft beers" explains Co-Owner Susan Davis. "The Ale Asylum collection of craft beers take the gourmet grilled cheese and craft beer experience to the next level."
"We're excited to be part of the inaugural launch of Pints and Bites. Melthouse Bistro is a top notch Milwaukee bistro for Wisconsin cheese and craft beer aficionados looking for something different than your typical bar and grill" says Ale Asylum Director of Promotions, Hathaway Dilba, "Melthouse Bistro's bold flavor combinations and impeccable service has made the restaurant a household name across Southeastern Wisconsin and many diners will jump at the chance to try this unique dinner menu."
Melthouse Bistro and Ale Asylum leadership teams worked together to create the grilled cheese and craft beer pairings. For example, the Ale Asylum Ambergeddon, a West Coast style amber that is aggressively hopped, pairs well with The Recco Supreme™ gourmet grilled cheese; garlic- infused Focaccia bread with Wisconsin Blue & Fontina cheese, smothered in a chipotle raspberry sauce.
Reservations are required for all Pints and Bites dinners and are subject to availability. Guests can make reservations on line at http://melthousebistro.com/pintsandbites.php or call 414.271.MELT (6358). The menu is also available for groups of eight or twelve. Those interested in booking a Pints and Bites private event for a group of 16 or more, please contact the restaurant directly or email catering@melthousebistro.com.
See Full Menu and Book a Pints and Bites dinner reservation at Melthouse Bistro
About Melthouse Bistro
Melthouse Bistro is an innovative fast-casual Milwaukee East Side restaurant that offers an ever-evolving selection of hand-crafted, gourmet grilled cheese sandwiches that are unique and appetizing. These flavor combinations feature Wisconsin cheese, thick-sliced European-style artisan breads, and fresh all-natural ingredients. Melthouse Bistro is passionate about creating fresh menu items from scratch and pairing them with a wide selection of Wisconsin craft beers and awarding-winning wines. We celebrate your love affair with cheese with an approachable culinary dining experience that is smart, warm and inviting. Melthouse Bistro was voted by OnMilwaukee.com readers as one of Milwaukee's Top 40 restaurants and was an OnMilwaukee.com Editor's Choice for Milwaukee's Best Sandwich. To learn more visit http://www.melthousebistro.com or call the restaurant at 414.271.MELT (6358).
Media Contact:
Troy Davis
troy.davis@melthousebistro.com
608.213.7691 (US/International)