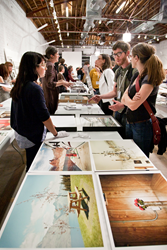 Review Santa Fe kicks off the summer arts season in a city rich with photographic history.
Santa Fe, New Mexico (PRWEB) March 24, 2015
CENTER will hold the 15th annual Review Santa Fe Photo Festival June 11-14, 2015 in Santa Fe, NM. Kicking off the summer arts season in a city rich with photographic history, Review Santa Fe offers photographers, photo enthusiasts, collectors, and the public a spectacular showcase of outstanding photographic talent from around the globe.
A Friday evening portfolio viewing of the work of 100 photographers offers a rare opportunity to browse portfolios and speak face-to-face with the artists. The public is invited stroll through the hall, viewing the artists' portfolios and talking with the photographers about their work.
More than 40 leading photo professionals will serve as reviewers seeking out new talent, including professionals from The New Yorker, MSNBC, TIME Magazine, The Museum of Contemporary Photography, and The Library of Congress.
An array of other public programs and exhibitions will be offered, beginning with a keynote presentation by internationally celebrated writer, critic, and activist Lucy Lippard. Artist presentations by CENTER 2015 award-winning photographers take place Friday and Saturday. On Saturday evening, CENTER hosts a special dinner to honor photographic luminary Anne Wilkes Tucker on her retirement as curator from the Museum of Fine Arts in Houston.
Review Santa Fe offers a number of events free and open to the public. A full schedule of events is available on the CENTER website. Most events take place in downtown Santa Fe at the Drury Plaza Hotel.
About Review Santa Fe
Designed to facilitate relationships between photographers and leading industry professionals, CENTER's Review Santa Fe is considered to be one of the world's premier events for photographers seeking recognition and career advancement. Nestled in the foothills of the Sangre de Cristo Mountains, CENTER connects up to 100 photographers with today's most relevant and esteemed reviewers, including curators, editors, publishers, gallerists, and others who can offer professional development advice and opportunities.
Review Santa Fe is supported in part by the Santa Fe Arts Commission and New Mexico Arts, a division of the Department of Cultural Affairs, and the National Endowment for the Arts.
About CENTER
CENTER is a 501(c)3 not-for-profit organization founded in 1994 that honors, supports and provides opportunities for gifted and committed photographers. For 20 years, CENTER has helped photographers across the globe advance their careers and grow to their full potential. Annual CENTER programs include The Choice Awards, Excellence in Teaching Award, Project Grants, and CENTER's flagship event, Review Santa Fe.
Contact: Laura Pressley 505-984-8353 laura(at)visitcenter(dot)org